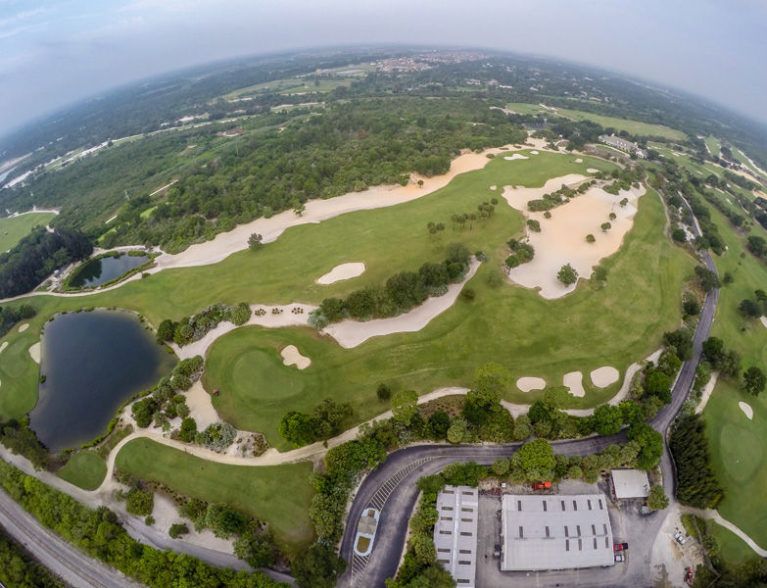 VERO BEACH — The Moorings Yacht & County Club's Board of Governors, in an effort to show "we are serious bidders," has moved up a vote on the proposal to acquire the Hawk's Nest Golf Club from November to a month from now.
In a letter emailed to Moorings members last week, club president Joe Vargas explained that the previously scheduled November vote would not fit the timetable set by Hawk's Nest, which has received three offers to purchase the 300-acre property.
Rescheduling the vote to June 1, Vargas wrote, would "validate our desire to acquire Hawk's Nest" and "put us in a competitive position" with the other bidders.
But will it? Or will June be too late?
Hawk's Nest members are expected to vote in May – perhaps as soon as the next couple of weeks – on which offer to accept.
"No date has been set yet, but I know they want to move forward with a vote," said one of three knowledgeable sources who spoke only on the condition of anonymity. "Right now, for Hawk's Nest, it's a matter of getting all the information they need from The Moorings.
"I'd be surprised if the vote didn't happen in May, but maybe they could stretch it to June," he added. "The Hawk's Nest people are trying to be fair to everyone."
According to Vargas' letter, ballots already have been mailed to all voting members at The Moorings and may be returned by mail or placed in ballot boxes located in the clubhouse lobby, Dockside Grille or Riverhouse.
They must be returned by 1 p.m. on June 1, when the outcome will be announced at a special meeting.
Approval of the acquisition requires a majority of all available votes.
"A positive member vote does not commit The Moorings Club to acquire the assets of Hawk's Nest," Vargas wrote, but it would allow the board to start the due-diligence process necessary to proceed with a purchase.
"Absence of a positive member vote," he added, "will most likely result in The Moorings Club's proposal to be determined to lack the support of the members and, therefore, not be considered seriously."
The Moorings board conducted Town Hall-type meetings at the club last Thursday and Monday to provide more information and allow members to ask questions and express their thoughts.
Vargas could not be reached for comment.
However, in his initial letter to members on April 7, he expressed the board's interest in acquiring Hawk's Nest to provide The Moorings' golfing members with a full-length, championship-caliber layout – an asset needed to remain competitive in the local market for younger executives and retirees who might not be satisfied with the club's 18-hole, par-64 "short course" that spans only 4,434 yards.
In recent years, in fact, The Moorings has relied on reciprocal agreements with other local clubs to meet this demand, only to see those relationships end for varying reasons.
Such an agreement with Bent Pine is scheduled to expire in May.
The termination of that arrangement prompted members to press the board to explore other possibilities and led to the proposal to acquire Hawk's Nest.
"The board has decided this may be a once-in-a-lifetime opportunity," Vargas wrote, closing his letter by telling members, "We strongly believe this is the right decision for The Moorings."
The other bidders are:
 The Heritage Golf Group, a nationally recognized company that promises to put the stand-alone, Jim Fazio-designed course at Hawk's Nest in the same lofty conversation with Florida's five-star best.
 A three-man group of Hawk's Nest members who say they want to take over the club just long enough to rebuild its withering membership and bolster its financial health, then sell it back to the members.
Two of the three members of the Hawk's Nest group serve on the club's board and also are members at The Moorings, sources said.
There were rumors of a fourth group entering the bidding last week, but sources said no other offer had been presented.
"There are only three," one source said.
Though each of the sources said it's difficult to predict which offer Hawk's Nest's 144 members will accept, they agreed that a sizable percentage will be swayed by The Moorings' amenities, which include a yacht club, tennis complex, swimming pool, fitness center and spa, as well as the only executive-style layout designed by renowned golf-course architect Pete Dye.
The Moorings' stiffest competition is expected to come from the Heritage group, which owns four clubs in South Carolina (Port Royal Golf & Racquet, Shipyard Golf, Oyster Reef Golf and Palmetto Hall Plantation, all on Hilton Head Island), two in Florida (TPC Tampa Bay and TPC Prestancia in Sarasota), and one each in Georgia (Champions Retreat in Augusta), Virginia (The Dominion in Glen Allen) and Texas (Meadowbrook Farms in Katy).
Hawk's Nest is carrying a debt of slightly more than $2 million and has lost more than 100 members since its pre-recession heyday, sources said.
A recent appraisal, however, placed the value of the property at $5.5 million.
All three bids would pay off the debt and provide additional reserves to fund improvements to Hawk's Nest, which opened in October 1987 and has operated as an equity-member-owned club since September 1993.
The Moorings' $2.5 million bid would be funded by 25 members – selected via lottery – each putting up $100,000 in exchange for an exemption from all club dues for the rest of their lives and the lives of their spouses.
Moorings members would not incur any debt as a result of the purchase, according to Vargas' April 7 letter, nor would there be any increase in dues, fees or charges, "other than normal cost-of-living increases."
In his letter last week, Vargas wrote that board members have met with the club's various committees to discuss the proposed acquisition and came away feeling optimistic about its approval.
"Support has not only been overwhelmingly positive," he wrote, "but most committee members have encouraged us to seek an earlier membership vote."
But is it early enough?