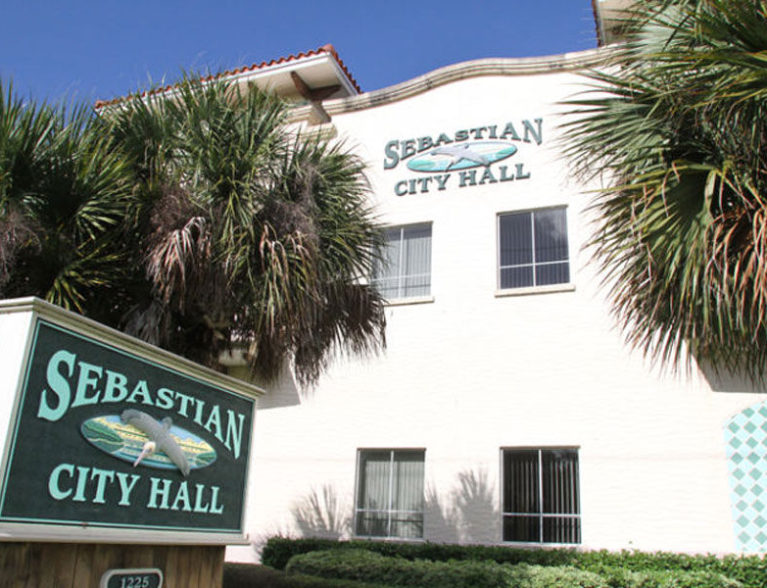 SEBASTIAN — There is no argument that the acoustics in Sebastian's City Hall Council Chambers are terrible. At its last meeting, City Council agreed with City Clerk Sally Maio that the room is, basically, an echo chamber and declared the time has come to fix the problem.
Problems with hearing and understanding during meetings in the high-ceilinged room, both among members of the audience and those on the dais, are common occurrences, and some board and audience members even resort to headphones.
Council member Andrea Coy commented that she would not be able to hear much of the meeting if not for speakers in the ceiling above the dais.
Systems Analyst Barbara Brooke-Reese told Council she met with a technician from Vero Home Audio who explained that the curved north wall was probably the source of the problem, and that there were only three areas in the chamber that did not have an echo.
Various sound-absorbing wall coverings were discussed: Mayor Richard Gillmor suggested foam panels, which he said had solved a severe echo problem at the County jail. He also mentioned a special foam sprayed on the walls of a church in Miami that seemed to work, but would probably "look yucky."
Council member Bob McPartlan suggested the possibility of placing a large city seal on the back wall. Gillmor and Coy agreed that a seal would be both appropriate and functional, and Coy noted that Sebastian sign artist Curt Oxford at one time had made a proposal to do such a seal.
Brooke-Reese will contact an acoustical engineer to analyze the room and provide cost estimates for various solutions.
"It could be as simple as placing panels in strategic locations," she said.
Council Vice-Chairman Jerome Adams suggested the possibility of lowering the ceiling speakers. Brooke-Reese said that is a priority and there is a plan to "separate the ceiling speakers for better control without risk of feedback as soon as we can get the time and the equipment."
"This is definitely a high priority for me," reiterated Coy.
Another improvement at City Hall will take place when Advanced Roofing of Sanford installs a new roofing system on the building.
The job will be done before hurricane season, Jun. 1-Nov. 30.
The cost, $52,111, is based on the piggyback price through an Orange County contract, and the work will have a 20-year material and labor guarantee.