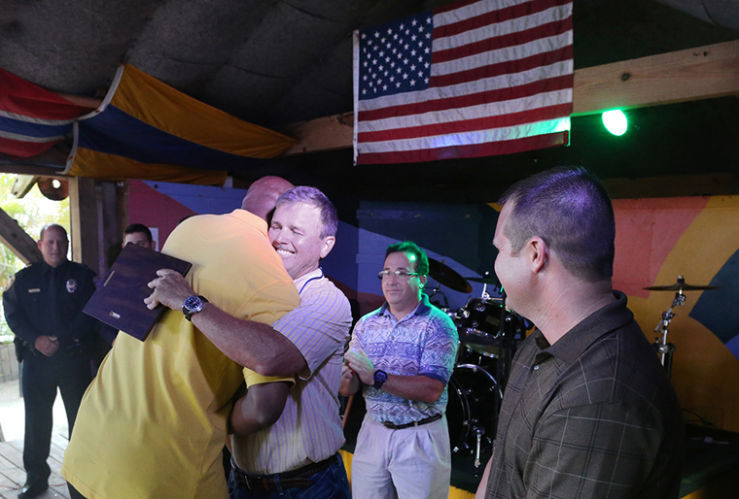 SEBASTIAN — Sebastian Police and Indian River Fire Rescue reunited with a special patient Friday evening at Capt. Hiram's in a celebration of having saved one of their own in April.
Sebastian resident and firefighter Ellis Buckner Jr. suffered cardiac arrest in the wee hours of the morning April 23, prompting his wife to call 911 and resulting in Sebastian Police and Indian River Fire Rescue's arrival – they were credited with saving his life.
At approximately 2 a.m. on April 23, Brandy Buckner was awakened by her barking dog. The very next sound she heard was her husband gasping for air.
"I was hysterical," Brandy Buckner said. "I tried to wake him up, but I could see it in his eyes he just wasn't there."
Ellis Buckner, a firefighter living in Sebastian, was experiencing cardiac arrest.
She ran for the phone and dialed 911. Within three minutes, Sebastian Police Officers Ron Carlson and Shawn Daily were in the house tending to their patient and awaiting the help of the Indian River County fire fighters on their way from Firehouse No. 8 in Sebastian.
Carlson, previously certified in the State of Pennsylvania as a firefighter and EMT, delivered one shock with his automated external defibrillator and administered CPR, getting a faint pulse back before a fire crew arrived on scene.
In the middle of trying to save his life, the officers did not recognize Buckner as a firefighter they had worked side-by-side with in the past. Not until fire engineer, Mike Bernstein, entered the home five minutes after the officers.
Fire medic Melech Berman said after finding the patient Bernstein immediately yelled out, "'Oh my God, it's Ellis."
"When you're working on a co-worker, it changes the game," Berman said. "It's traumatic. He's one of your own, he's family."
Bernstein also remembers the extra-adrenaline that kicked in once he realized the life of a co-worker and friend was in his hands.
"It's scary. It's not something you normally do," Bernstein said. "We always move quick on calls like that, but that, that was extra quick."
Bernstein and his crew continued to treat Buckner as they transported him to the Indian River County Medical Center where he would stay in a medical induced coma for the next eight days.
Those eight days moved by slowly for family and friends who poured in and out of Buckner's room to show support. His wife never left his side.
"We had visitors all night, all day, even in the middle of the night as firefighters were bringing in other patients they would come by to visit," Brandy Buckner said.
But for eight days, everyone concerned with Buckner's progress just had to wait and pray, Brandy Buckner said.
Little by little, test results would come back with good news, a brain scan showed progress, and every little milestone gave his family and friends more hope that Buckner may return to his old self.
On the eighth day, Buckner woke up. His memory of the April 23 events are still non-existent, but he was on his way to a full recovery.
Buckner and his family, along with the police officers, fire fighters and fire medics who teamed together to save his life, all re-united at Captain Hiram's on Friday night for a ceremony to honor the life-saving team.
"I feel well," Ellis Buckner said. "My memory is great. I just have lots of love and lots of thanks and appreciation for those guys."
He added, "From what they told me, from start to finish – it's just a miracle that I am here."
President of the Indian River County Firefighters' Association John O'Connor said that a person who's body was as deep into cardiac arrest as Buckner's was, has less than a 3 percent chance of survival, and even less of a chance to returning to life-as-normal.
In spite of all the odds against him, Ellis Buckner stood on stage Friday night at Captain Hiram's to present plaques to his fellow firefighters and large, wooden axes to Officers Carlson and Daily, in a gesture of gratitude.
After hugging each and every one of them, Buckner took to the microphone to deliver a formal thanks to the men who saved his life, his wife and family who stood by his side, and to God, who Buckner said was in control of the situation from beginning to end.
"In my right mind – I count my blessings," Buckner said.
"I died, and I'm still yet here," he added. "I could have been a vegetable, I could have been dead."
Buckner is still unsure of when he will return to work, but for now, his family and co-workers are just eager to celebrate with the man who almost died right before their eyes.