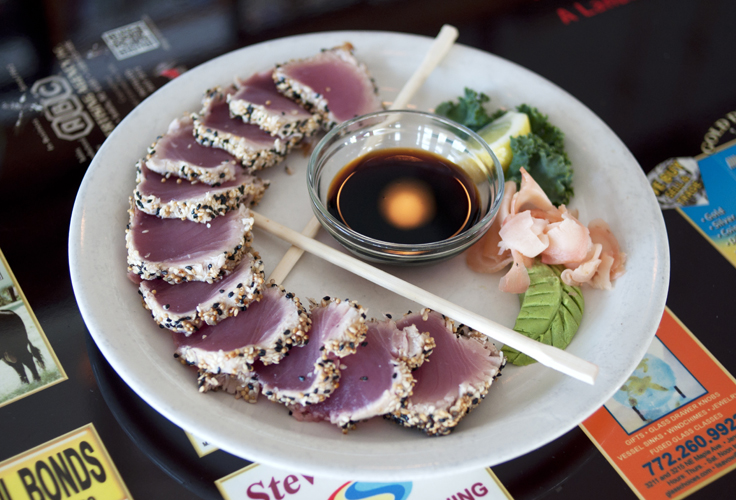 FT. PIERCE — Last Tuesday evening, we drove south to Fort Pierce to have drinks and dinner with old friends who were stopping overnight at the Pelican Yacht Club en route north from the Keys for a summer of cruising along the New England coast.
After a couple of drinks aboard their 36-foot M/V Heritage, we wandered a half mile down the road to Chuck's Seafood restaurant, where we were lucky to get a table on the second floor veranda from which to continue watching another sunset across the Fort Pierce inlet.
In the late spring, while the evenings are still cool enough to enjoy dining al fresco, there is no better spot in this area to enjoy dinner while watching fishing boats returning with their catch – which is probably only a few hours fresher than the fish you will soon be enjoying as your entrée.
This venerable restaurant is close to a perfect place for anyone seeking good fresh seafood, attentive service, and the best view around of boats entering an inlet to our Indian River Lagoon.
(Our friends were going right back out the inlet in the morning to continue up the coast, which is why they did not make it to our Vero Beach City Marina.)
For starters on this evening, after ordering a bottle of chardonnay, I joined one of our companions in having a house salad, and my husband and our other companion upgraded to Caesars from the house salad for an added $1.50. The salads were just fine.
Then for entrees, I ordered Chuck's "famous fried shrimp" ($18.99), one of our companion's went for the stuffed shrimp with crabmeat stuffing ($23.99), the other chose the broiled scallops ($22.99), and my husband opted for the yellowfin tuna, which he had blackened for $25.99.
Chuck's "famous fried shrimp" are generally as good as you are going to find anywhere, and this evening proved no exception. Our friend's shrimp stuffed with crabmeat were topped with hollandaise, and also were very tasty.
The broiled scallops, as always, were plump and juicy, and my husband's tuna was lightly blackened and grilled just right, a beautiful piece of a very tasty fish. The dinners come with a choice of potatoes, rice or veggies.
We decided on this evening to forego dessert — though at least one of us was sorely tempted by recollections of Chuck's Key Lime pie – in favor of enjoying another glass of wine as we watched the twinkle of lights on late arriving boats.
Dinner for two with wine and before tip is likely to run in the $80 to $100.
This is not a place that demands fancy dress. The atmosphere, even in the dining room, might charitably be described as casual.
But for good seafood, simply prepared, the food measures up to that in most white-table-cloth restaurants.
And this time of year, when the dog days of summer have not yet arrived, you won't regret dining on Chuck's veranda.
I welcome your comments, and encourage you to send feedback to me at tina@verobeach32963.com.
The reviewer is a beachside resident who dines anonymously at restaurants at the expense of Vero Beach 32963.