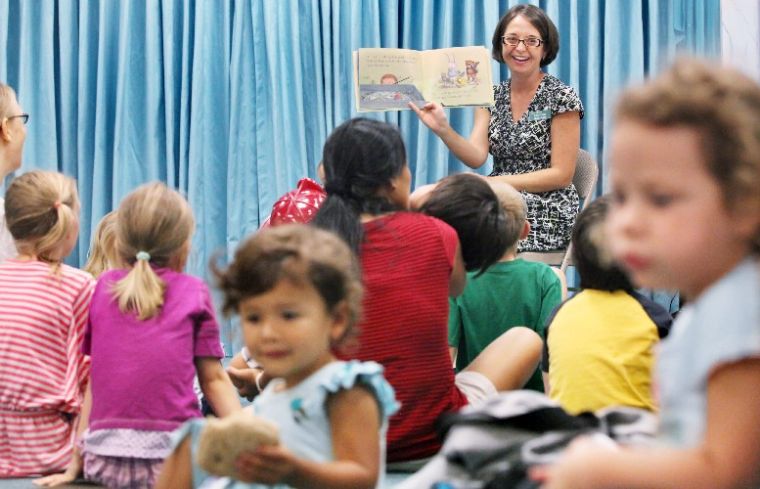 It's been a year since the Vero Beach Book Center consolidated its main store and its children's store, and like most condensed versions, the hope was to make a classic more accessible to the masses.
That appears to have been the case.
Merging has had an unexpectedly strong ripple effect with sales compounded by the convenience of multiple genres under one roof. Parents and grandparents coming to shop for the kids pick up a book for themselves. And vice versa.
"People tell us it's much more convenient," says Chad Leonard, son of the founders of the store, Tom and Linda Leonard. "We were counting on that, but we didn't expect it to be as strong as it has been."
Even with the reduction in square footage, the book store, at 11,500 square feet, is vast for a town the size of Vero. "The positive news is we're still here," says Leonard. "We didn't want to support two buildings, but we didn't want to close."
Meanwhile, a letter of intent has been signed by an undisclosed client to lease the southern portion of the 9,000-square-foot former location on Indian River Drive. That bodes well for the Leonards, who own both buildings.
Chad Leonard, a 39-year-old father of two small children, now runs the store; he believes that by dividing the Victorian-style building, it can be leased more easily. The property has been vacant since the move last summer.
Leonard calls the consolidation "a bit of a wake-up call" for readers who may take the store for granted, to say nothing of its role in community life.
Though a retail venture with bottom-line concerns in a profoundly challenging marketplace, Vero's only independent bookseller has in its nearly 40 years of existence become an institution, not only a gathering place for readers, writers and educators, but with outreach into Vero's cultural life.
The Book Center regularly draws nationally recognized authors, and often musters a larger crowd than similar centers in even Tampa or Miami. The most famous of the celebrity chefs and sports figures with books to promote, those who may pull crowds of up to 1,000, appear in rented halls like the Vero Beach Performing Arts Center. And Vero's private clubs sometimes piggy-back with their own gatherings after a book center author event, doubling the author's exposure.
The store sponsors a year-round book club, the Bookies, as well as seminars for other Vero book clubs believed to number close to 80.
There are weekly story hours by a paid professional who sings and does puppet shows and crafts.
And the store's staff mans the book tables at countless poetry readings and speakers' series lectures. Leonard himself has donned the oversized – and sweltering – costumes of various children's book characters to parade around the after-school pick-up lines during the St. Edward's Lower School book fairs.
The biggest event for the Book Center this season was for a retired hockey hall-of-famer, Bobby Orr. The line at his February appearance snaked through the store, up the stairs, back down again and out the door. "It was madness," says Leonard.
The turnout for such a small town stunned the publisher, who had provided the book store with 500 copies of Orr's autobiography. Turns out, they needed 1,000.
"Chad worked the floor and took names and numbers and had them drop shipped to Bobby's house in Jupiter," Callander recalls. Orr autographed them in his garage and shipped them back up to Vero.
Some events, while smaller, are just as heartwarming – and draw names just as huge.
Two weeks ago, the Book Center hosted Vero's participation in World Book Night, an online event where authors donate the rights to their books and publishers donate the books themselves to people who commit to passing them out to people who need encouragement to read; 50 cartons of books were sent to the Book Center for distribution.
Carl Hiaasen, best-selling fiction writer and Miami Herald journalist who lives in Vero with his family, was the "ambassador" of the event, which included donations of his children's book "Hoot." The night culminated in a group going out to the Vero Beach High School football field and forming a rocketship for the Learning Alliance's Moonshot Moment campaign to get more children reading at higher level.
It didn't take long for seasonal visitors to figure out where their beloved store had moved. Leonard says much of the store's strongest support comes from visitors from northern cities who've seen their favorite book stores close – not just independents, but national chains as well.
"They're like, 'Don't close!' and then they buy more books from us," he says.
That is precisely the reaction the Leonards need, if the Book Center is to stay alive.
"A lot of people think our challenge is technology, but I don't," says Leonard. "It's to educate people to the fact that if they like having a book store, they need to buy books from us. You can try to say it in a less blunt way, but they need to spend their money here if we're going to stay here."
Leonard says he frequently sees customers browsing and making a list of the books they want. "Then they're annoyed that we don't have wi-fi because they want to download their books to their phone."
Then there are customers who buy "nine out of ten books from us," he says.
Often those customers have emotional connections to the store. Just last week, Callendar was warmed when a woman shopping for diet books sighed and exclaimed, "I just love coming here!"
Others reminiscence about Hemingway the cat, a fixture in the store for many years who passed away. "People have memories of coming here," says Callandar.
One 18-year-old girl who regularly comes down from Titusville with her mother, has been invited to blog about the upcoming "Fierce Reads Tour," a four-author event May 20 targeting young adult readers through a strong online presence.
The Book Center's strong sales to a younger audience pick up on a trend across the country. Physical books across the country are selling well to teenagers and children, who according to Nielsen surveys still prefer them to e-books. While 40 percent of teenagers have a device like an iPad or Kindle or are planning to get one, physical books are souvenirs of the reading experience, says Callandar. "Kids like mementos," she says. "They buy books like they buy T-shirts."
The book store has held on to an affordable option for physical book readers: a paperback section of secondhand books, all catalogued on computer. For years, it has offered a dollar for trade-ins in good condition.
"That helps with summer reading lists for kids," says Leonard.
Much of the sales are gift-giving: kids can't unwrap an e-book. "People want their grandkids to be readers," says Leonard.
At the same time, more adults are reading teen literature, a trend that picked up with the Harry Potter series and spiked with the "The Hunger Games."
"Divergent" is the latest multigenerational hit.
According to Publisher's Weekly, buyers of books in the young adult category are divided between children and adults, with readers 18 and over making up more than three-quarters of the genre's buyers.
"There is no shame in reading young adult books," says Callandar. "It gives grandmothers something to talk about with their grandchildren."
Happily, children adapted quickly to the consolidation. Where they once walked in to see toys and puppets, they now face grown-up bestsellers. But that doesn't deter their focus.
"The beauty of it is, they know right where to go: straight for the stairs," Leonard says.
At a recent book signing, as adults packed the downstairs, a 4-year-old boy marched upstairs, looked over the railing, and exclaimed, "Wow, what a view!"
"He got it," Callandar says, glowing.