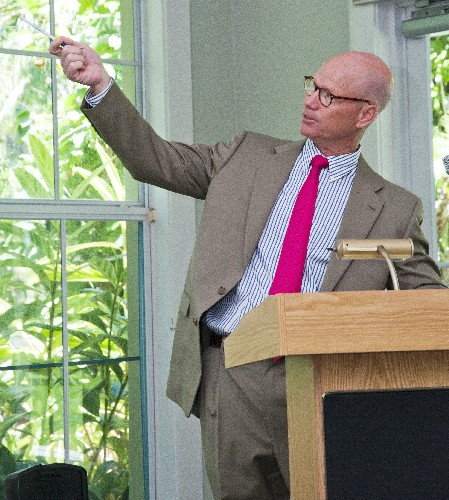 Snoopy's illustrator, a Charlie's Angel and a gregarious Speaker of the House, all met the same fate: colorectal cancer. Charles Schulz, Farrah Fawcett and Tip O'Neill all died of the disease.
The second leading cause of cancer-related deaths after lung cancer, colorectal cancer took an estimated 50,000 lives in the United States in 2013. And colon and rectum cancer represents 8.6 percent of all new cancer cases in the U.S., according to the Centers for Disease Control and Prevention.
Colorectal cancer is also known as colon cancer, rectal cancer or bowel cancer. It is the uncontrolled cell growth in the colon or rectum. Genetic analysis shows that colon and rectal tumors are generally the same cancer.
Vero Beach resident Barbara Lipton had a grandparent die of the disease, one that is widely known to be survivable when caught early, but only learned recently, at age 71, of the recommendation that people 50 and older have colonoscopies every 10 years.
"It's now on my to-do list," said Lipton, who was planning on making an appointment pronto. "I am much more proactive. You tend to get more assertive about your health when you get older."
Lipton attended one of the four colorectal lectures offered by Indian River Medical Center last week in different parts of the county. Dr. Heather Nagel, IRMC radiologist, discussed the signs, symptoms and causes of the disease during an hour-long session in a private room at Marsh Landing Restaurant in Fellsmere. Other lectures were held in Sebastian and Vero Beach.
For millions of Americans, a colonoscopy belongs on a should-have-done list. Only about half the people who should get colonoscopies actually do so, and the consequences of skipping or delaying it can be grave. In part, the reluctance comes from reticence: Who wants to discuss matters of the rectum, stool and the like with anyone else, even a doctor? But people need to get over that, doctors say.
"Colons seem like sort of secretive, a private thing," says Dr. Heather Nagel, an Indian River Medical Center radiologist. "But in this day and age, we hear of presidents' wives and celebrities getting colon cancer. This is a preventable cancer if found early."
The cancer sneaked up on Carlos Carvajal, 55, of Vero, who didn't know anything was amiss until he felt abdominal pain. In tests and surgery, doctors found a malignant tumor and a benign one that might have turned cancerous in time.
"It's a silent cancer," said his daughter, Nancy, 21. "There weren't obvious symptoms until he had pain." It's often true that "you don't know you have it unless you have a checkup." Carlos said bad nutritional habits, including lots of greasy food and little fiber, caught up with him. He's doing well after surgery in February.
Symptoms of colorectal cancer typically include rectal bleeding and anemia which are sometimes associated with weight loss and changes in bowel habits.
Most colorectal cancer occurs due to lifestyle and increasing age, and only a minority is associated with underlying genetic disorders. Typically, it starts in the lining of the bowel and when left untreated can grow into the muscle layers underneath and then through the bowel wall.
Seventy-five to 95 percent of colorectal cancer occurs in people with little or no genetic risk. Risk factors include older age, male gender, high intake of fat, alcohol and red meat, obesity, smoking and a lack of exercise. Ten percent of all cases are linked to insufficient activity.
People with Irritable Bowel Disease are at increased risk of colon cancer.
"About 20 percent of colorectal cancer is familial; the other 80 percent is just bad luck," said Dr. Daniel Glotzer, IRMC general surgeon, who treated Carvajal.
Screening is effective at decreasing the chance of dying from colorectal cancer, and is recommended starting at the age of 50, and continuing until a person is 75 years old.
Localized bowel cancer is usually diagnosed through a sigmoidoscopy or a colonoscopy. A sigmoidoscopy is a procedure used to see inside the sigmoid colon and rectum. A colonoscopy is a procedure that lets the doctor see inside the entire large intestine.
Education about screening, and follow-up are key to reducing the number of people dying of colorectal cancer. In an effort to do just that – educate –Michelle Bollinger, IRMC Cancer Care Service coordinator, helped organize the lectures. She said her department often gets calls from women saying, "my husband or son won't get a colonoscopy."
"People are so resistant to tests," she said, adding that only 50 percent of those who should be getting screened actually do so. The American Cancer Society target for this year is 75 percent. "I think we have a long way to go."
Polyps are the highest risk factor for colorectal cancer. During screenings, these can be detected, and removed.
"Colonoscopies save lives," said Glotzer. "The incidence of colon cancers have been slowly coming down since early 2000 and one reason is that Medicare started covering screening for colons; health companies started doing it too."
Some 150,000 colorectal cancers will be diagnosed in the U.S. every year, according to the National Institutes of Health. Some 40,000 of them will be diagnosed in Florida – of those, 120 colorectal cancers will be diagnosed in Indian River County.
"Nobody likes to talk about stool or poop, so it's a little bit taboo," said Glotzer. "We have to bring it to the attention of doctors and patients. A lot of people don't take care of themselves."
Indeed it is important that doctors, in addition to gastroenterologists, think in terms of colonoscopies for their patients. Lipton wondered why her primary care physician hadn't recommended a colonoscopy given her age and familial history. Needless to say, she will be proactive in asking for an order for a colonoscopy on her next visit to the doctor.
Diagnosis is confirmed with a biopsy. The stage of the disease is confirmed by pathologists and imaging tests, such as CT or CAT scans, endoscopic ultrasounds and MRIs may also be used.
Treatment options include surgery, and chemotherapy, and when necessary, radiation.
New therapies try to starve the tumor by disrupting its blood supply; this therapy is given along with chemotherapy.
Follow ups are important. A colonoscopy should be performed a year after colorectal cancer is removed, and a surveillance colonoscopy performed every 3 to 5 years to identify new polyps or cancers.
"I learned that I have to take care of my body with nutrition, exercise and reduce stress that could cause it," said Nancy."If my dad got it, it's a possibility for me."