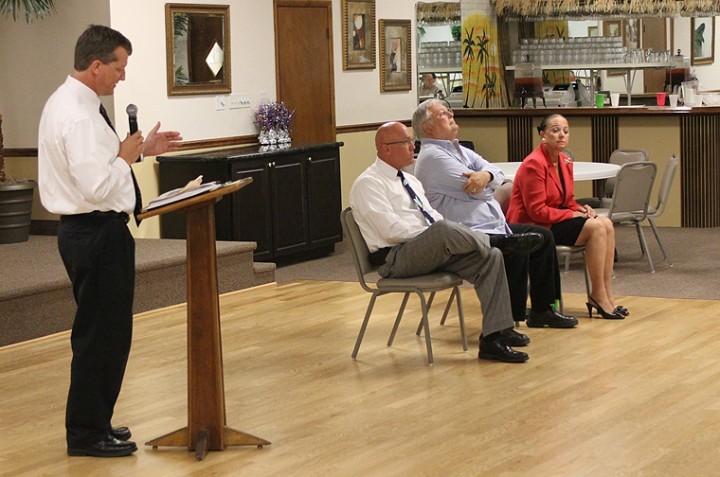 INDIAN RIVER COUNTY — Two candidates vying for Indian River County Tax Collector and one running for Property Appraiser made their final pitch for votes in front of the Indian River Taxpayers Association Wednesday afternoon. Missing from the forum were two other candidates, both of whom had scheduling conflicts.
The Taxpayers Association peppered incumbents Carole Jean Jordan and David Nolte, who run the Tax Collector and Property Appraiser offices, respectively, and Jordan's rival, funeral home director and former County Commissioner Thomas Lowther, with various questions.
Nolte's challenger, Thomas Dehn, was unable to attend the lunch forum because of work, according to Taxpayers Association member Mary Beth McDonald, who was tasked with inviting the candidates to the event.
She said Barry Barnard, who is running as a No Party Affiliate, against the winner of the Tax Collector Primary race, was also engaged with work.
Such questions included what they do with their day in the office, the number of hours they work each week, if their salaries are appropriate for their level of responsibility, how they would cut their budgets even more than they already have.
Lowther joked at one point during the forum that he would go back to his seat, as many of the questions were aimed at the incumbents and left little room for him to comment.
Despite that, he told the audience that the Tax Collector's position is one that suits him the best because he was once known as the "Customer Service" commissioner.
"I truly believe this is an office of only customer service," Lowther said.
Jordan responded to the question regarding her workday, noting that it begins at 5:30 a.m., when she wakes up, and doesn't end until she goes to sleep.
"I'm a BlackBerry person," Jordan said, explaining that she often starts the day checking her messages.
Throughout the day, she meets with staff, answers calls, and fills in at the desk when the office gets busy.
She said that her work continues, even she's left the office for the day because she often runs into people who ask questions about the Tax Collectors office, particularly what they need to have with them to renew or get a driver's license.
"It's a full time job," Jordan said, adding that she doesn't keep track of her hours but would estimate she puts in at least 50 hours each week.
Nolte said his day begins when he reaches the office, when he checks in with staff and reads the Wall Street Journal.
"I don't have a typical day because we don't have a typical customer," Nolte said.
He added that he routinely meets with his staff, deals with computer problems and manages other issues throughout the day.
Not counting lunch breaks, Nolte said he puts in about 35 hours each week.
Lowther told the Taxpayers Association that if he were Tax Collector he would have weekly meetings with management and would not micromanage staff.
"I know I'm only as good as my staff," he said.
As for the question regarding the Constitutional Officers' salaries, both Nolte and Jordan agreed their salaries were appropriate given the level of responsibility they have for taxpayer dollars.
Nolte told the association that his salary is just shy of $119,000; Jordan said hers is about $114,000 after having taken a $5,000 pay cut to help the budget.
According to County Finance Director Jason Brown, the salaries of each officer this year is almost $117,000.
Lowther told the association that when he was on the Board of County Commissioners, he worked to change the rules for elected officials' salaries, which are set by the state.
He was successful in getting Representative Debbie Mayfield to introduce and pass a bill that would allow commissioners to voluntarily cut their salaries – something they couldn't do prior to the bill.
"I would love to make $119,000," Lowther said, explaining that it is a serious and important job. He added that he had no problem with the officers' salaries.
Jordan called the salary "fabulous" and added, "It's a difficult job…We do have a lot of responsibility."
Nolte agreed and explained that a study comparing various counties' salaries for their Chief Deputy Property Appraiser showed the average salary was between $70,000 and $100,000.
He rhetorically asked that if the Chief Deputy's position is that valuable, then wouldn't the Property Appraiser be worth a bit more.
"We fund local government," Nolte said of the Property Appraiser's Office, noting that it's his office that makes sure properties are assessed the right amount of taxes, the main funding source for government.
Jordan and Lowther will face off in the Aug. 14 Primary – the winner will then take on Barry Barnard in the November General Election. Nolte will face Thomas Dehn in the Aug. 14 Primary.