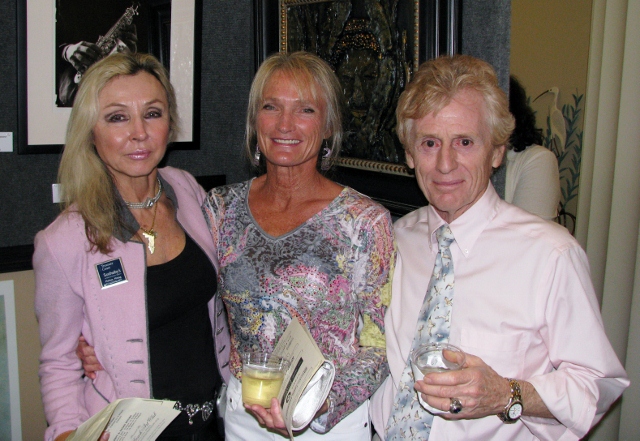 VERO BEACH — Thousands of art lovers will head to the Vero Beach Museum of Art this weekend for one of the Vero Beach Art Club's premier exhibitions – Art by the Sea. Those in the know attended the Friday night opening reception and awards ceremony to get a first opportunity to view and purchase some of the outstanding works by local artists.
Approximately 240 pieces were on display in the Museum's Holmes Great Hall, each completed by talented members of the Vero Beach Art Club and the Vero Beach Museum of Art. Artists are allowed to enter just one piece, guaranteeing that their very best work is on display. This was the 24th year for the show and judging by the overwhelmingly positive response from the community, it's likely to continue for many years to come.
In memory of artist Phyllis Maulfair, a longtime member of the Vero Beach Art Club who passed away in November, a special Phyllis Maulfair Memorial Award was created and awarded for the first time this year to Allan Van Nostrand for his acrylic painting, Clammers at Garden Park.
Art by the Sea was chaired by Julianne Martensen, who admitted that she was one of the newer artists saying, "I haven't reached the journeyman stage yet; I'm still an apprentice."
On the other hand Kathy's Rose, an oil painting by her co-chair Judith Ragusa, garnered a first place ribbon. Ragusa, also a member of the Artists Guild Gallery, only moved to Vero Beach within the past two years, but has quickly thrown herself into the local art scene.
Lest you imagine preferential treatment, consider that there is a different out-of-town judge each year with the challenging job of determining winners in each of seven categories: oil, acrylic, watercolor, pastels/graphic, mixed media, sculpture/jewelry and photography/digital.
In addition to the new Phyllis Maulfair Memorial Award, there is also a John Mazur Memorial Award for Best in Show.
This year's judge was Carla Rossi Poindexter, associate professor of art at the University of Central Florida whose works have been presented in solo, competitive and curated exhibitions.
'I've been painting since I was an infant; I think I painted on the walls," said Judith Ragusa, adding that she was drawn to the area because of its art centric community. "I feel that this whole town revolves around the museum; it draws artists to Vero."
"The talent here is amazing for such a small town," said Nicholas Adams, regarding Ragusa's work with an appreciative eye.
Lionel Ogilvie, another member of the Artists Guild Gallery, had chosen to enter a piece which was somewhat different from usual style.
"It's Blue Cypress Lake," said Ogilvie of his landscape oil Nature's Spotlight, which featured soft beams of sunlight filtering down to a white heron in the mangroves. "I'm retiring and will have a lot more time to get out there and connect with my love of nature. All artists are looking for the passage of light through the scene to make the painting come alive."
Best in Show this year was awarded to a three-dimensional piece – a silky-smooth, cherry wood, hand carved rocking chair sculpted by Al Gustave, appropriately named Rocking Rocker. Portions of the rocker are inlaid with purple heart and maple; he noted the wood alone cost $1,000.
"Years ago in California, when I was a designer, I visited the studio of Sam Maloof. I always wanted one of his chairs; it took a year for him to make one," explained Gustave. "So, I decided to make it myself. It was my lifelong goal. It's an heirloom piece as well as a work of art."
The Vero Beach Art Club has a long history in the community, originally formed 1936 as the Vero Beach Sketch Club and eventually incorporating in 1954 under its present name. Funds raised at the event benefit the Vero Beach Art Club Scholarship Program, which awards scholarships towards degrees in fine arts to local high school students.
The show will continue Saturday and Sunday, Jan. 21 from 10 a.m. to 5 p.m. and Jan. 22 from 10 a.m. to 4 p.m.
2012 Art by the Sea First Place and Special Award Winners:
John Mazur Memorial Award for Best in Show: Al Gustave, Rocking Rocker
Phyllis Maulfair Memorial Award: Allan Van Nostrand, Clammers at Garden Park
Oil First Place: Noel Rothmayer Award: Judith Ragusa, Kathy's Rose
2nd: Rene Guerin, Tablescape
3rd: May Brandt, Untitled
Merit: Betsy Moser, Morning Mist
Acrylic First Place: Ivo David, Fort Pierce Yellow House
2nd: Tim Sanchez, Nantucket Pond
3rd: John Cullen, Untitled
Merit Award: Janvier Miller, Lillies of the Valley
Watercolor First Place: Delbert Peterson, The Birches Along the Trail
2nd: Witha Lacuesta, Dance Danzon
3rd: Jill Klein, Still Life
Merit Awards: Joel Johnson, Morning Light
Alan French, Rocks Beach, Kennebunkport
Patti Sherman Jones, Senior Citizen
Kim Weissenborn, Silver
Pastel/Graphics First Place: Pat Murphy, Serenity
2nd: Dawn Miller, At Ease
3rd: Agnes Manganelli, Bathtime
Mixed Media First Place: Bernice Taplitz, Under Construction #4
2nd: Margaret V. Goembel, Seascape #7
3rd: Aline LaFleche, A Walk in the Park
Merit Award: Joan Bence, Refelections #Four
Sculpture/Jewelry First Place: Connie Roth, Untitled
2nd: Joan Earnhart, Imenah Rose on Sepia
3rd: Sara Shankland, Monkey in a Tree
Photography/Digital First Place: Jim Cohoe, Riverside Retirement Place
2nd: Anne Malsbary, Conflict Between Good & Evil
3rd: Lisa Willnow, Wing Stretch