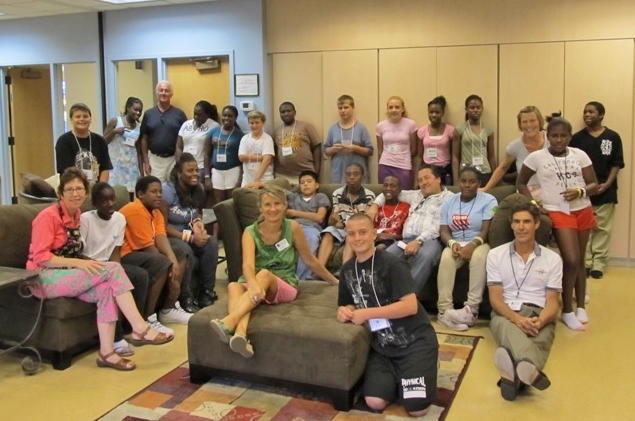 INDIAN RIVER COUNTY — Youth Guidance is keeping their participants busy with the addition of the Teen Mentoring Group, Karate Kids, We R G.E.M.S. and Strengthening Families. These four programs are for various age groups and families and will instill team building skills, healthy habits, etiquette, family conflict resolution techniques and much more. They will be held at different venues in Indian River County.
The Teen Mentoring Group kicked off the beginning of the year and is open to Youth Guidance teens in grades 6-12. Staff and volunteers run the program, held every Monday, 5 pm, at the Community Church. The teen group begins with friendly competitions in the game room and continues with team building exercises and topical speakers. The evening concludes with a healthy, family-style dinner where the group focuses on positive conversation and etiquette.
Karate Kids, for youth of all ages, commenced in July and is held at the Gifford Youth Activity Center each Tuesday at 6 pm. Headed by John Walcott and Joane Patrick, youngsters and adult volunteers get a thorough workout in Kung-Fu, qigong, karate and yoga helping them to develop their mental focus. The participants also come away with self-discipline, new athletic skills and a positive outlook on life.
Beginning September 14, girls in 4th-12th grades will be introduced to the program We R G.E.M.S. held at the Gifford Youth Activity Center, Wednesday nights at 6:00. Youth Guidance will partner with We R G.E.M.S. (GIRLS EDUCATED, MOTIVATED & SOPHISTICATED) Inc., a non-profit serving young females on the Treasure Coast. The mission is to empower girls to make positive decisions in areas that determine their educational and social status.
The areas of focus will be self- esteem, self-confidence, social and business etiquette, academic support, college and career planning and community service. The vision is to have communities within the Treasure Coast filled with highly educated and sophisticated women who are leaders of organizations and community initiatives.
In conjunction with CASTLE and funded with a grant provided by Indian River Community Foundation, Youth Guidance is sponsoring Strengthening Families starting September 15, 5:30-8 pm, at the CASTLE offices. Parents and children, ages 10-14, will come together to resolve family issues in a group environment during this seven week course held Thursdays.
This is a family skills training program which reduces problem behaviors and helps improve school performance. There will be free meals and babysitting for families attending the classes. Individuals who want to enroll their children in Youth Guidance to take advantage of these terrific programs may call the Youth Guidance office, 772-770-5040.
The primary purpose of Youth Guidance is to match each of its nearly 700 at-risk K-
12 grade children with a volunteer mentor 21 years or older and keep youth engaged in positive educational, cultural and recreational year-round activities. Mentors spend just a few hours a week with their mentee doing friendship-based activities that they both enjoy. The agency is actively seeking volunteers to serve as mentors, tutors, or periodic volunteers at ongoing activities for the unmatched children in the program, or to provide regular help in the office.
For more information, visit www.ircyouth.com or call 772-770-5040.