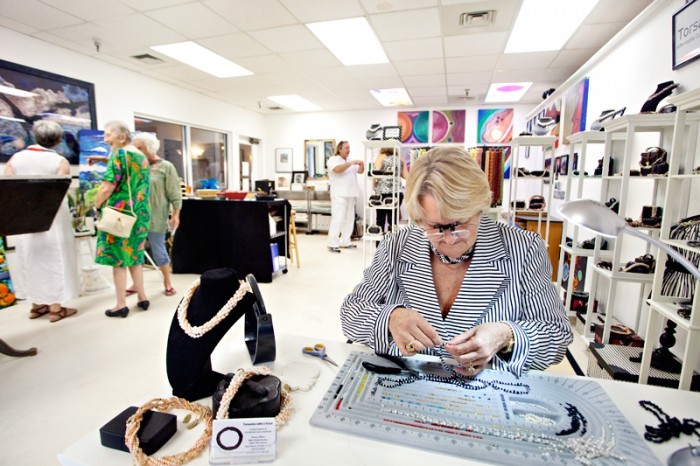 VERO BEACH — Downtown Vero Beach was a hub of activity Friday evening as galleries and businesses welcomed throngs of people to the 3D District Summer Sizzler Stroll. It was indeed sizzling, but the heat was far better than previously predicted drenching rains from Hurricane Irene. Many went all out for the event, luring the steady stream of visitors with refreshments and live entertainment.
Flametree Clay Art Gallery hosted its first invitational exhibit; Meet the Locals, featuring their own work plus that of 17 visiting artists from the area. Flametree's five resident artists met through ceramics classes at the Vero Beach Museum of Art, and formed the gallery this past March.
"It seemed like a good time," said artist Maria Sparsis, renowned locally for her imaginatively designed ceramic teapots.
The gallery's other resident artists are Karen Ekonomou (aka Keko), known for vibrantly colored designs, Cosette Kelley, with whimsical pieces enhanced by crystals and found objects, Lisa Lugo, whose designs have a Japanese aesthetic, and Trudy von Linsowe, with pieces influenced by art deco designs.
Future shows include Deck the Halls, the 4th Annual Mad Potter's Tea Party, Throw It on the Wall, a Tableware Show, and Fish and Flowers.
"I'm going to take a class," said Denise Finizio, impressed by the stunning exhibit. "I'm inspired, and I'm going to do it!"
The new bridal shop Lara's Theme opened its doors Aug.1 and had lovely models showing off a few of the gorgeous gowns. In addition to one-of-a-kind discounted couture dresses, owner Lara Fiorelli provides floral and wedding planning services.
"This was my first bride," said Fiorelli as she hugged Linette Capritta, wearing the gown she was married in.
Treasure Garden was so new; it wasn't even noted on the Summer Sizzler participant map.
"We just opened this week," explained owner Kim George of her shop, which offers gifts, arts, accessories, a smattering of antiques, and artwork.
"We have one local artist right now," said George. "We are hoping to have other artists; I'd love it. We're thrilled to be in the downtown area."
Despite a robbery this June, owners of the Black, White and Tan Boutique never lost a beat.
"It took a little while to clean it up," said co-owner Yvonne Proctor, adding the thieves were never caught. "It was a big crime scene; it was such a violation to have something like this happen in a small town. But the support from the community has been fabulous."
"I was just happy we weren't here," added partner Fran Green. "The police were wonderful; they did everything they could. We've recovered and we're back stronger than ever."
Gallery 14, Tiger Lily Studios and Gallery, and the Artists Guild Gallery were open just for the event.
"We're generally closed August and September," said Gallery 14 partner Lila Blakeslee, who originally founded the Summer Sizzler Stroll concept.
"We hope that Main Street Vero Beach will take over our Summer Stroll in the future; we'll just manage the Gallery Strolls," added Blakeslee. "We have nine galleries now along 14th Avenue; we had six last year. We're starting to coin the area as "The Art District of the Treasure Coast". People come from all over for the Gallery Strolls."
"We got this beautiful evening," said Tiger Lily Studios and Gallery artist Chris Adams Johnson. "I'm so happy it's a night like this instead of a hurricane."
"I'm very impressed," said new Vero Beach City Manager Jim O'Connor, out enjoying the stroll with wife Sherry. "Look at all of these people – and it's off season for Vero. The art that we have in this community is wonderful."
"We're super excited," said Patricia Hope Miles co-owner of Lighthouse Frame and Gallery, which has been in its 14th Avenue location just two months. "We have room for a gallery, art classes and framing."
Their gallery room currently displays the work of photographer Irene Kijak, who describes her vibrant images as "what florals are going to look like in a post-apocalyptic era, after things start coming back."
Businesses on Old Dixie Highway, part of the 3-D District, were also doing a brisk business.
"We've had a really good crowd," said Decorative Arts owner Deb Daly, who was donating a portion of proceeds from the evening to Childcare Resources. "It has exceeded our expectations for the night."
The brand new Fishack Restaurant was filled to the gills, and the Kilted Mermaid next door had spilled its entertainment out into the alleyway.
"That kid is so good!" exclaimed Pat Stelz of performer Donnie Haight, who regularly performs around town at the Kilted Mermaid, the Vero Beach Sports Grill and Waldo's. "He's only 14 years old and he's fabulous – this kid is wonderful."
"We're really excited about our upcoming season," said Penny Aliyetti, of the Artists Guild Gallery, which reopens in September.
In addition to their own works, the gallery will host five guest artists this season: Al Gustave, Jerry Stone, Charlotte Dickerson, Alvina Balog and Karen Massengill.
The Main Street Vero Beach office in the Theatre Plaza building, also houses the Main Street Studios, which currently features the works of Sherry Wilson, Lou Mullan, Shawn Welch, Jack Macey and Karen McCarthy.
They had also invited Britnie Walker and her young daughter Bailey to display their jade heART jewelry collection, inspired as Bailey underwent chemotherapy treatments.
Judging from the crowd, many closed out the evening at Bodega Blue, bidding a fond farewell to Lynne Persinger, who recently sold the business to new owners Peter Beringer and Zandra Simm.