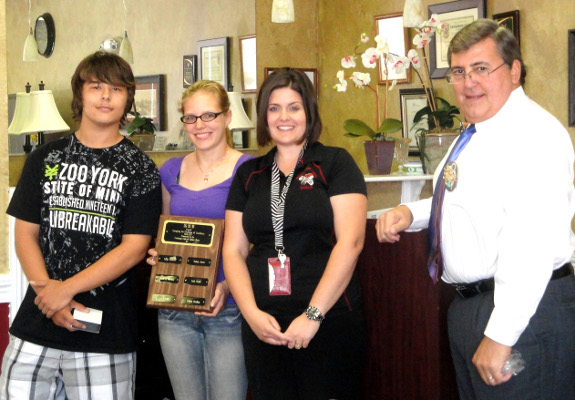 VERO BEACH — Sierra Ohler and Dylon Hanlon were honored by the Exchange Club of Indian River as the school year's final recipients of the Accepting the Challenge of Excellence (ACE) Award.  
Scott Wallace, chair of the club's ACE committee, presented the awards to the two Vero Beach High School seniors at the club's May 11 luncheon meeting at Culinary Capers. They were recognized as outstanding students in the school's Performance-Based Diploma Program (PBDP). Wallace gave an engraved key chain and a check for $50 to each student and added their names to the perpetual plaque that hangs in the PBDP office at the high school. Shannon D. DuPlessis, program coordinator, introduced the students and told of their academic and personal accomplishments.
Ohler has been an active participant in the Performance-Based Diploma program for one year. She has had a very successful year this year, excelling in school and earning recognition for her outstanding commitment to improving herself as a student and a person. She was described by DuPlessis as an exceptionally good writer who plans to attend Florida State University in the fall to seek a degree in secondary education.
Hanlon has been enrolled in the PBD program for two years. Since his transition into the program, he has excelled academically, despite many obstacles, demonstrating incredible persistence and determination to succeed. He expects to complete a certificate in gasoline engines and plans to continue his education in mechanics at Indian River State College.
Exchange Club of Indian River meets for lunch at Culinary Capers each Wednesday at noon. Meetings feature programs on a wide range of business, government and civic, charity, personal, and professional topics. It provides the community with programs in youth activities, service, and Americanism.
Through participation in its national project, the Prevention of Child Abuse, the Exchange Club of Indian River's Foundation supports a number of local youth-related projects for the prevention of child abuse.
Further information is available from president Andrew Molloy at 772-473-4416 and the club's websites http://www.bluewateropen.org and http://www.exchangeclubofindianriver.org.