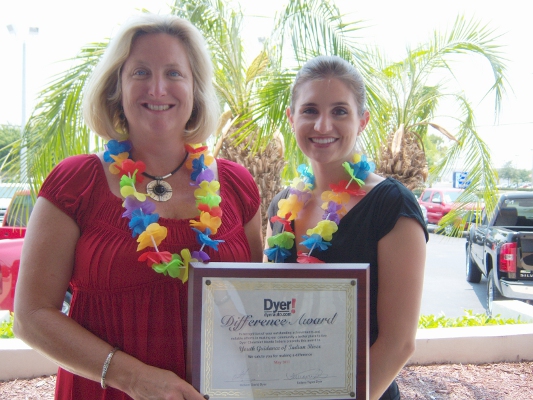 VERO BEACH — Dyer Chevrolet and Dyer Mazda Subaru are pleased to announce Youth Guidance of Indian River County as the 35th recipient of the Dyer Difference Award.  The award, along with a $3,000 check, salutes a non-profit organization in Indian River County that is truly making a difference in our community.  
The award will help sponsor Youth Guidance's largest event of the year, the 33rd Annual Tropical Night Luau scheduled for Saturday June 4 at Quail Valley.
"This gift means so very much to us as we just found out that we need to raise $60,000 rather than the $50,000 because there are so many kids needing camp funding this year. We are in desperate need of local individuals to donate $75 a week to have a child in the area's camps.  It is so important for these needing kids," said Barbara Schlitt Ford, director of the charity when receiving the check.
"We have heard what a great event this is and know how important it is to have our county's kids be involved in activities that satisfy a child's most basic needs such as attention, affection, praise, recognition and fun," Tatiana Dyer said.
For more information about Youth Guidance or the Luau call 772-770-5040.
To nominate an organization for the Dyer Difference Award, visit dyerdifference.org for details.