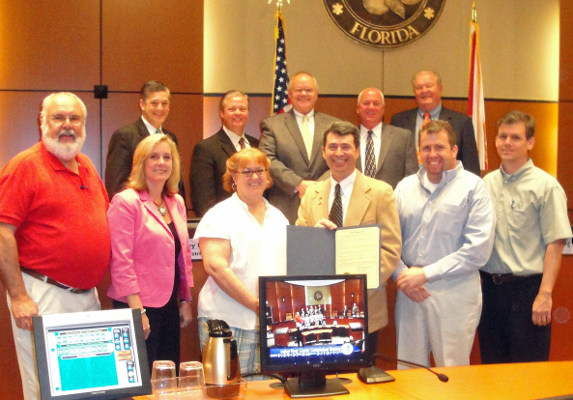 VERO BEACH — To commemorate the 100th anniversary of the founding of National Exchange Club, the Indian River County Commissioners proclaimed that March 27, 2011, be recognized as National Exchange Club Day. The Proclamation urged citizens of the county to recognize the past and ongoing contributions of National Exchange Club and to support their local Exchange Clubs.  
Exchange is a service organization made up of more than 700 clubs with over 22,000 members throughout the United States and Puerto Rico. For the past 100 years, the volunteer efforts of Exchange have supported the needs of the country and of local communities, making it the country's oldest American service organization operating exclusively in the United States. Exchange clubs provide the community with programs in youth activities, service, Americanism, and child abuse prevention.
Five of those clubs are in Indian River County, including the Exchange Clubs of Fellsmere, Indian River, Sebastian, Treasure Coast, and Vero Beach.
Eric Menger, member of the Treasure Coast club, is the 2009-2011 president of the Florida District made up of 28 clubs throughout the state. Exchangites attending the Proclamation included Treasure Coast president Robert Paugh and Indian River members George Blythe, Aaron Bowles, Jenny Frederick, Nancy Gollnick, and Jan Binney.
For additional information about Florida District Exchange Clubs call Eric Menger at 772-532-6132 or visit www.floridadistrictexchange.com or www.nationalexchangeclub.org.