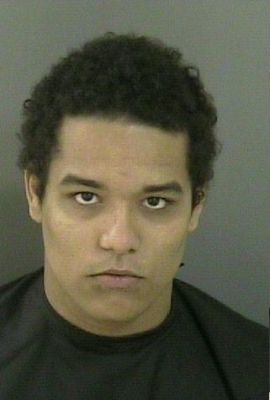 SEBASTIAN – The Sebastian Police Department announced the arrests of two men accused of burglarizing several homes in the Sebastian.
An officer encountered two males who appeared to be suspicious are 3 a.m. on Wednesday, one of whom fled on foot in the area of the 500 block of Bayharbor Terrace. The other subject was found next to vehicle that was later identified as containing numerous stolen items, according to the Police Department. Officers arrested Ezra Maestri, 18, of 1480 Schumann Dr., and Joshua Roach, 20, of 594 Bayharbor Terrace.
Maestri was identified as the subject who fled on foot after having doused himself in gasoline to evade a Sebastian Police K-9 unit.
The police dog was not thrown by the fumes and was able to track Maestri, according to the department.
Authorities initially determined Maestri and Roach had committed a burglary on Persian Lane in the city, and subsequent to further investigation, linked the pair to several others in and around Sebastian.
Investigators are continuing to follow additional leads that may result in further charges.
Maestri faces charges that include four counts of felony grand theft, three counts each of burglary of a dwelling and criminal mischief, two counts of felony burglary, and one count each of felony theft and resisting arrest without violence, according to the Indian River County Sheriff's Office website.
In addition to the burglary charges Maestri was also arrested on a warrant for failure to pay restitution.
Maestri remains in the Indian River County Jail in lieu of nearly $133,360 bond.
Roach faces charges that include two counts each of felony grand theft and criminal mischief and one count each of felony burglary and burglary of a dwelling.
Roach remains in the Indian River County Jail with a bond of $61,000.