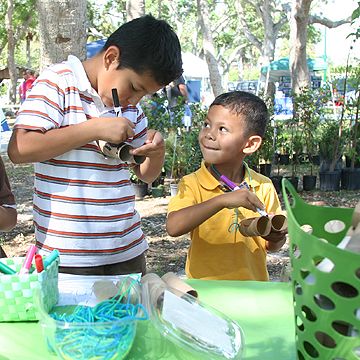 SEBASTIAN – Sebastian residents took advantage of clear blue skies and sunshine to recognize the importance of the earth and their impact on it during the annual Earth Day and Arbor Day celebration at Riverview Park.
Visitors bounced from booth to booth, learning about environmental groups in the area and working on eco-friendly crafts that not only would feed the wildlife but stoke the imagination of children.
"It's turning out very nicely," said Tara Howe, member of the Sebastian Natural Resources Board and the Green Angels.
Her booth had both a game and a kid-craft to draw children and adults alike over. While the children played the game for a chance to win candy or turned toilet paper rolls into binoculars, Howe and other Green Angels talked up the group to the kids' parents.
"We advocate recycling," Howe said, adding that they are working with schools and participating in community events to spread the word.
The Green Angels is a group of eco-minded people in Indian River County who want to reach out and impress upon people the importance of taking care of the environment.
To that end, the group is working to coordinate beach cleanups and striving to get its non-profit status to begin fund-raising to help boost the city's recycling efforts.
Down the path from the Green Angels was another booth with an eco-craft – pinecone feeders.
Children lined up more than four across the tables, donned blue latex gloves and smeared creamy peanut butter on pinecones and then dipped the cones into a bucket of birdseed.
"It's fun," said 8-year-old Lani Rodriguez after making the pinecone to take home. Rodriguez said she suspects the squirrels will get to the pinecone before the birds do.
"It's a wonderful day," volunteer Rosemarie Bostinto said, cleaning up the space a little after being mobbed by children.
Within the first two hours, more than 100 pinecones had been turned to feeders.
Bostinto said she wasn't worried about running out.
"Sebastian has plenty of pinecones," she said.
Recent arrivals to Sebastian, Jackie and Lee Binder brought 14-month-old Isabelle to the Earth Day celebration.
"We're quote-unquote 'green' people," Lee Binder said, adding that they were learning more about Florida native plants – something they weren't familiar with before relocating to Sebastian from Michigan.
"It's something to do with the family and enjoy together," Jackie said of coming out to Riverview Park for the festival. "It's a great day."