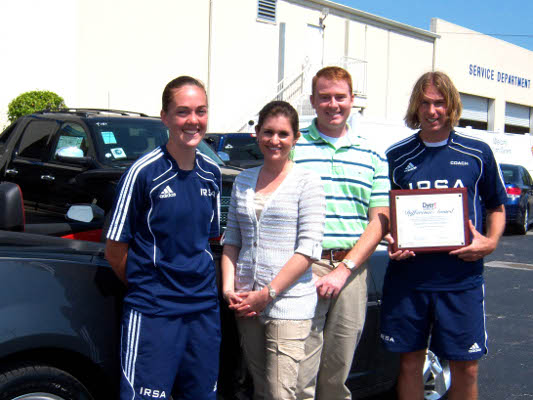 VERO BEACH — Dyer Chevrolet and Dyer Mazda Subaru presented the Dyer Difference Award and a check for $3,000 to its 33rd award recipient, the Indian River Soccer Association.  The award salutes non-profit organizations in Indian River County that are truly making a difference in our community.
The Indian River Soccer Association (IRSA) is not a county subsidized athletic program. Rather, it relies completely on corporate team sponsors and player fees to provide 100% of its operational budget.
Included in that budget are year round field maintenance (irrigation, fertilization, mowing, field striping, etc.), field equipment needs, referee fees, uniform fees, and maintenance of restroom and concession facilities. Hundreds of volunteers spend many thousands of hours to ensure that every child has an opportunity to learn and play.
As IRSA strives to meet the needs of a growing number of kids, they must raise funds to expand the playing opportunities of local youth so that every child who desires to play will be able to participate.
"For over 15 years, Indian River Soccer Association has been meeting the needs of thousands of our local youth through their participation in soccer. Since its inception, IRSA has provided a fun environment that improves each child's physical, mental and social skills, without the assistance of any public funding.  It is great for our community's kids to have such an outlet," said Will Dyer.
For more information about IRSA call 772-581-3695
To nominate an organization for the Dyer Difference Award, visit dyerdifference.org.