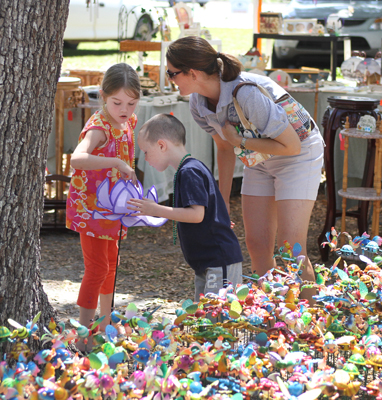 SEBASTIAN – A few thousand people are expected to walk through Riverview Park this weekend, many in search of landscaping ideas and decorations to adorn their homes.
For the fifth year, the Sebastian Rotary Club has taken over the park, inviting the community to the annual Home and Garden Show, which serves as a fundraiser for the organization.
"Things are going well," said Rotarian Bob Rosa. "You couldn't ask for better weather.
The club has raised about $20,000 over the last couple years through the show and hopes to raise a few more thousand by the weekend's end. The proceeds go back to the community by way of scholarships for youth.
Along with browsing nearly 40 vendors and listening to Bluegrass music on the stage, visitors to the park are encouraged to purchase tickets for a drawing for a 4-night/5-day cabin stay in the Blue Ridge mountains of Georgia, worth $675.
"This is very good," said Sebastian resident Rosanne Bennett of the show on Saturday. "The flowers look pretty and I'm enjoying the music."
Fellow Sebastian residents Pat and Dennis Dunn took their time strolling around the park, stopping at different booths collecting information.
"That doesn't worry me," Dennis Dunn said of his wife coming up with ideas for his "honey-do" list.
"I am enjoying it very much," Pat Dunn said. "I love the weather and being around people and seeing what's going on."
The couple stopped at a booth selling Tupperware, and walked away with a shopping bag full.
"I love Tupperware," she said.
Sebastian Rotary Club President Dr. Michael David said that he thought the day was going well.
"This is just fantastic – the weather, the crowd," he said.
The Rotary Club, he said, came up with the idea for a Home and Garden Show after noticing that it was one theme event not already done by another group.
"It's our niche," Dr. David said.
The Home and Garden Show continues Sunday from 10 a.m. to 5 p.m. Admission, entertainment and parking are free. Food and beverages are available for sale, as are countless items for the home and garden.