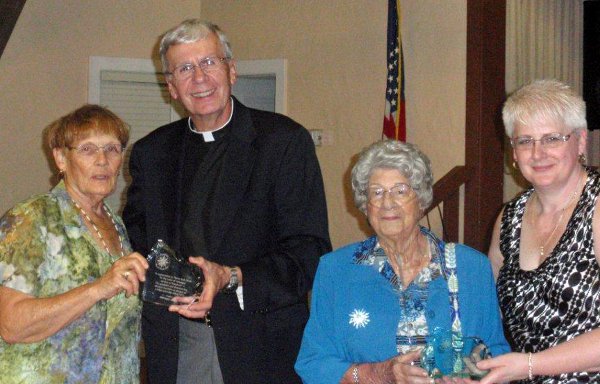 VERO BEACH — The Sunshine Physical Therapy Clinic was formed in 1953 to fill a need in the community for the physically challenged; this was a post-polio era and many children were in need.  To rectify the problem, Florence Schlitt approached Bill Graves to request his help in starting a facility where children could be treated.
At the time, it was entirely a volunteer clinic, offering physical therapy, occupational therapy and speech therapy.  Numerous volunteer hours later, it has evolved into a fee-driven full service clinic. At the recent Annual Founders and Friends of Sunshine Physical Therapy Clinic Dinner, Pastor Diehl and Ann Perrilla were honored for their service to Sunshine.  Pastor Diehl was a member of the Board of Directors for more than 20 years, also serving at times as president of the board.  Mrs. Perrilla received the honor for her husband Silvia Perrilla, who was one of Sunshine's founders as well as a long time board member and past president.   
Sunshine Physical Therapy now offers physical and occupational therapy, along with massage, walk aid, vertigo and lymphedema therapy.  Personal fitness training, assisted personal fitness and many other services are also offered.
Sunshine is not owned by a corporation or physician.  Approaching nearly 60 years of service, Sunshine remains a non-profit 501 (c) 3, independent facility.  The organization is governed by a volunteer board of directors.
A prescription is needed for most treatments and, as with all prescriptions, can be fulfilled by a facility of your choice. When in need of treatment, Sunshine welcomes the opportunity to be that treatment facility.
Sunshine could not remain successful without the support of the community.
For more information, call (772) 562-6877 or visit www.sunshinept.org.