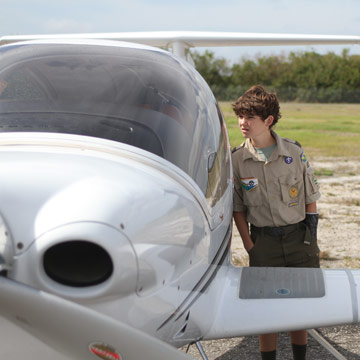 SEBASTIAN – Three Boy Scout Troops and a Sea Scout Ship spent the weekend at the Sebastian Municipal Airport for their annual Camporee.
Their Friday night was almost a wash due to inclement weather, but it didn't stop the troops from having a blast watching a movie on a big screen inside the LoPresti hangar. "Scouting is near and dear to our heart," said David LoPresti, who served many years as a Scout Master. LoPresti Aviation's CEO RJ Siegel is an Eagle Scout.
"It's one of our favorite months of the year," LoPresti said of March – the month the Scouts arrive to work on their Aviation Badge.
LoPresti Aviation isn't the Sebastian Municipal Airport to support the Scouts during the Camporee. Skydive Sebastian, too, helped out – diving in with the American Flag for the opening ceremonies.
"It's always a thrill to see the kids' reactions," said skydiver Gregg Mikolasek.
Mikolasek and Charles Julian took to the sky with the flag as a way of demonstrating to the Scouts that anything they want to do is possible.
"It's important for them to see that," Mikolasek said.
The Scouts were able to take turns riding planes out over the Sebastian Inlet, getting a bird's eye view of city and surrounding habitat.
"It's not everyday you get to fly in a plane," said Scout Robert Walsh, 15.
They were allowed to ride in the Velocity – "the coolest plane ever!" Walsh said.
"It was fun," Scout Justin Lahman, 15, said.
Both Scouts participated in the Camporee last year and earned their badges at that time. They said they had had so much fun last year they wanted to come back again this year.
For those Scouts who had not earned their badge last year, they participated in a series activities designed to earn them that badge.
One such activity was to map out a flight route from Orlando to Dallas with two stops in between – one in Providence, RI, and one in San Diego, Calif.
"The aviation business is extremely large in the U.S.," Indian River District Training Chairman Tim Pendergast told the assembled Scouts at the start of the activity.
He showed the Scouts how to read flight plans and determine which flights they would have to schedule to reach their destination.
This is the third year the Indian River District Boy Scouts have participated in an Aviation Camporee, though only the second time at the Sebastian Municipal Airport.