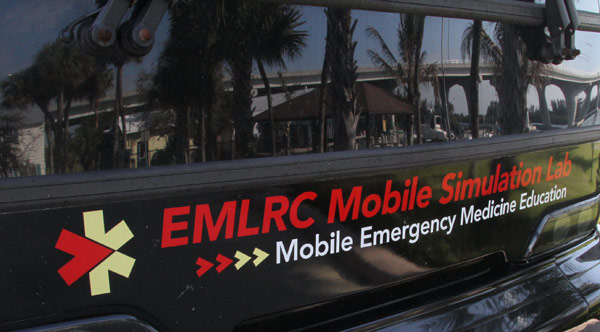 VERO BEACH – For four days this week, firefighters and emergency medical responders are receiving special training from a mobile lab that stopped by under a $350,000 grant.
The first responders brushed up on their mass casualty incident skills, learned about an emerging new – and dangerous – way of committing suicide, and discovered that cyanide poisoning is more common than first thought in structure fires. "It's good training for our guys," Battalion Chief Cory Richter said.
Under a Department of Health grant, the Emergency Medicine Learning & Resource Center, based in Orlando, has been sending its mobile simulation lab from county to county, providing extra training first responders might not have had otherwise.
Eric Dotten, the clinical programs coordinator, arrived at Fire Station No. 2 near Riverside Cafe in Vero Beach on Tuesday, and plans to wrap up the training Friday afternoon.
"We want our personnel to be well equipped to handle the situation" they find themselves in, Dotten said.
He said that Indian River County's first responders are able to think critically and respond quickly – but like most others elsewhere in the state, lack training on how to respond to weapons of mass destruction or chemical, biological, radiological or nuclear threats.
One such threat that is becoming more prevalent in the U.S. is chemical suicide, Dotten said. A person who commits chemical suicide typically mixes two certain chemicals together, which have a reaction producing fumes. The person, usually sitting in an enclosed space breathes the chemicals, passes out and then dies.
The concern for first responders is that often the suicides are done in vehicles, where responders might open the door or break a window to gain access to the person. Dotten said that doing so could jeopardize everyone in the vicinity of the vehicle as the gases escape.
So far, those who have performed chemical suicides have posted warning signs on their vehicle doors or windows.
Along with keeping up with the latest trends, the trainees got to try their hand at administering aid to a $100,000 mannequin named John T.
"He's pretty cool," Dotten said, explaining that John T. can breathe, sweat, cry, talk, take medicine through an IV, and most anything else a human trauma patient can do.
"He's about as real as you can get," Battalion Chief Richter said.
Chris Thomas, a driver-engineer EMT, said that the training is good for them to go through to keep their skills sharp.
And, as for working on John T., "he's not a real patient" but still more advanced than other mannequins used in training.
Paramedic Intern Melissa Frederick was riding along with Station No. 1 when they were called in for the training session.
"It was kind of scary," she said of working on John T. "But I'm glad I got to participate."