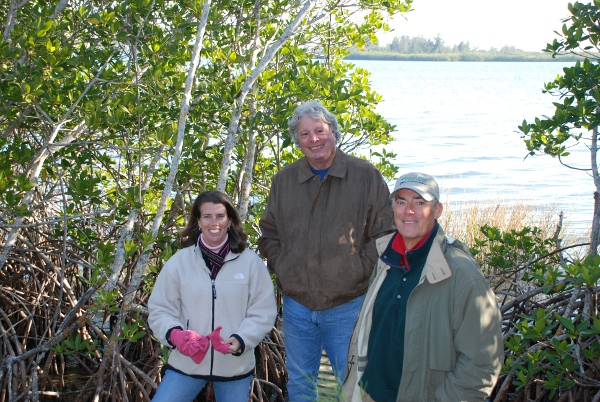 VERO BEACH — Kayaking and canoeing enthusiasts will have a new place to launch their car-top vessel for a paddle down the Indian River Lagoon thanks to a recent land purchase by the Indian River Land Trust, a nonprofit organization celebrating 20 years of conserving important land and water resources in Indian River County. The four-acre conservation property is located along the west side of the Indian River Lagoon at the end of Quay Dock Road.  The historic wagon road built in the 1890s was used by early settlers on John's Island and the peninsula to transport their produce from the Quay Dock to Quay Station, now Winter Beach.
The property contains mostly mangrove swamps, but includes a small landing ideal for canoes and kayaks.  The Land Trust purchased the property as part of its Lagoon Waterfront Initiative to preserve and manage environmentally sensitive lands along the Indian River Lagoon.
"The acquisition of the Quay Dock Road parcel by the Land Trust in 2010 was a key and early investment in the execution of the Trust's Lagoon Waterfront Initiative," said Grant Withers, Land Trust Board member and Land Committee Chair.  "This parcel meets a number of the Trust's criteria for acquisition: it's in relatively natural condition, it is a shoreline for marine and wildlife habitat, it has scenic and recreational value, and it is of historical significance. Importantly, it has the potential for future linkage to other conservation lands identified in the Land Trust's inventory of environmentally important lands."
The launch is expected to be open to Land Trust members and their guests in late 2011.
The mission of the Indian River land Trust is to promote the conservation, preservation and improvement of Indian River County's natural resources and special places for the benefit of the general public and future generations.
For more information visit www.irlt.org or call 772-794-0701.