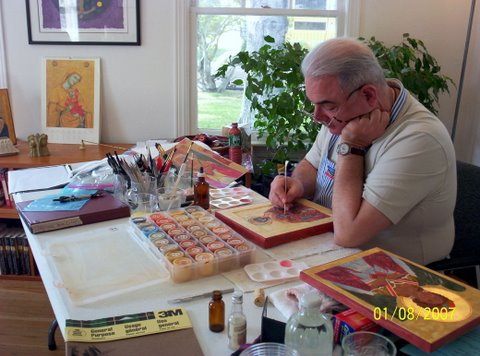 VERO BEACH — The Center for Spiritual Care has announced that Father Richard Cannuli, OSA will conduct his Seventh Annual Icon Workshop in Vero Beach. The six-day icon writing workshop runs daily from 9:30 a.m. to 4:30 p.m. Sunday, February 27 through Friday, March 4.  The Center for Spiritual Care is located at 1550 24th Street in Vero Beach. Just as in 16th century Russia, students will create an icon in the Russian orthodox style using ancient techniques and natural materials, rich with symbolic meaning – wood panels prepared with gesso made from chalk and glue, finely ground clay, 23-karat Italian gold leaf, and ground mineral pigments in an emulsion made from egg yolk.
Previous artistic experience is not necessary; icon writing is as much a contemplative form of prayer as an artistic discipline. Each student will complete an icon under Fr. Cannuli's step-by-step guidance and instruction. All materials will be provided.
Fr. Richard, an Augustinian friar, is the director of Villanova University's Art Gallery and a professor of studio arts. He is also a well-known water colorist and a liturgical design consultant. For the past twenty-five years, he has designed and created commissioned works of art for churches worldwide, including stained glass windows, furnishings, hand-sewn religious vestments and other church accessories.
The cost is $550 per person.
For information on the Center for Spiritual Care, call 772-559-5711 or visit www.centerspiritualcare.org
To register, contact Dorothy Kay at dorothy.kay@att.net.