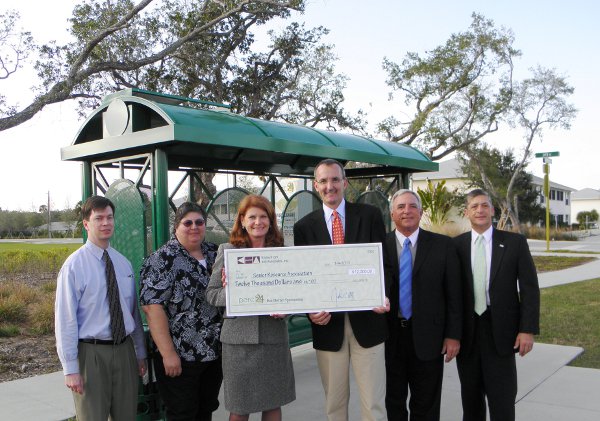 VERO BEACH –Kimley-Horn and Associates, Inc. has sponsored the newly installed GoLine Bus Shelter, at the parc24 office campus on Indian River Boulevard, with the money going towards purchase of the shelter and its installation. The Senior Resource Association is the County Transportation Coordinator for GoLine Public Transit. "Since many of us have cars, it is easy to forget that so many others rely on public transportation.  Commuters benefit from bus shelters as they travel to school, medical appointments and shops.  As a sponsor, you benefit as well, when you are recognized through your philanthropy as someone who cares about our community" said Karen Deigl, CEO and President of Senior Resource Association.
The Vero Beach office of Kimley-Horn and Associates, Inc., a national design consulting firm is located at parc24.
"We are proud to be the first business sponsor of a GoLine Shelter in the County, and hope that it serves our residents for a long time to come" said Keith Pelan, Senior Associate with the firm.
For information about shelter sponsorships, call Karen Deigl at 772-569-0760.