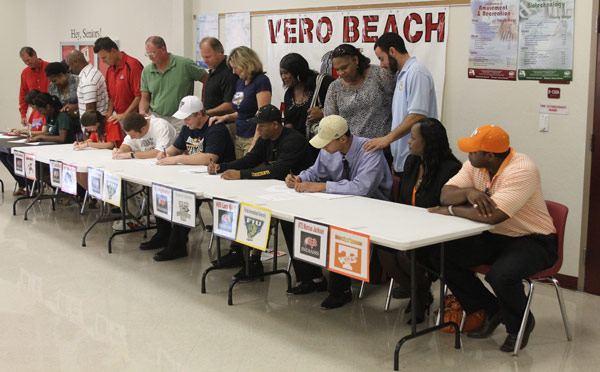 VERO BEACH — Vero Beach High School had a National Signing Day ceremony for the four players who signed their letters of intent to play college football Wednesday afternoon.
"The fact that we had so many sign with schools says a lot for our program, a lot for our parents,  and a lot about our kids," said 2010 VBHS Football coach Gary Coggin.  "There are still some more kids that we want to get signed to at least partial scholarships."
Offensive lineman Marcus Jackson signed with University of Tennessee, safety Larry Franklin signed with Vanderbilt, and defensive linemen Cody Horstman and Lars Koht signed with Florida International University, and Josh Rice signed with Florida Institute of Technology.
"I'm really excited for all of them," Coggin also said. "It is going to be a big step in their lives, and I think they are going to represent the Vero Beach program well."
Jackson, a standout three-year starter, wasn't at the ceremony because he enrolled at Tennessee in January after earning enough credits to graduate from high school a semester early.  Scout.com ranked him the 14th best offensive guard in the country
Franklin, also a standout three-year starter, picked Vanderbilt after his visit there last weekend with teammate Austin Carter.  He was ranked the 59th best safety in the country.
Horstman started at defensive end for two years, after earning substantial playing time as just a sophomore.  It was once thought he would go to college on a track and field scholarship, but the former discus whiz decided his future was best served playing football at FIU.
"Ever since day one, I've had a great feeling about FIU," Horstman said.  "Their coaches are hungry and they've turned things around down there.  They also have the best facilities of any place that offered me.  It is a rising program, and that's something I want to be a part of."
"It is amazing to go down with Lars, a teammate," Horstman added.  "I'm so glad that we get to go to FIU as defensive linemen together.
Koht, who didn't get a chance to play a full season until his senior year, had gone to football camp at FIU before, and the staff had a good feel for his potential.  After two seasons of battling hand and shoulder injuries, he had a productive season opposite Horstman at the other defensive end position.
"I knew Cody had already committed when I visited," said Koht.  " But I was surprised by the offer.  I was on my way out of the hotel at the end of my visit, when the coach caught up to me and offered me a scholarship.  Knowing that I'm going there makes me happy, and it's close to home."
Rice, who split time between linebacker and tight end, signed on to an FIT program, which won't play a regular season game until 2013.
"Being part of a new program is great, and is definitely really exciting," Rice said.  "Right after last season ended, I knew that (2010) had to be my year and my time to show what I could do.  I pretty much hit the weight room right when the season ended."
Rice gestured to teammate Joe Garofalo and hinted that it would be great to have a former teammate room with him at his new school.  The wide receiver/defensive back is considering FIT and Pace University in New York.
Other VBHS players still weighing their options include safety Austin Carter and punter Todd Fennell.  Carter, mentioned Princeton and Vanderbilt as favorites, and Fennell was recently asked to be a preferred walk-on at University of Florida.  Both have grade point averages of over 4.0.
At Sebastian River there has been only one signing so far – wide receiver Stephan Clark.  Clark signed with FAU, who was in real need of receivers going into next season.
"Stephan is one of those kids who is still raw, so his best football is ahead of him," Sebastian River Football coach Randy Bethel said.  "He made leaps and bounds from year to year – he's only been playing football for a couple of years.  I think he's going to be a very good college football player."
"We still have a coupe of kids who may sign with schools," Bethel added.  "Maybe three or four more will play somewhere next year when it is all said and done."
Sunshine State Conference Champion St. Edward's had two players sign to play college ball next year. 
Collier Proctor, a four year starter at quarterback for the Pirates, signed on to play at Middlebury College next year.  Christian Rose, an offensive and defensive lineman, will play at Franklin and Marshall.