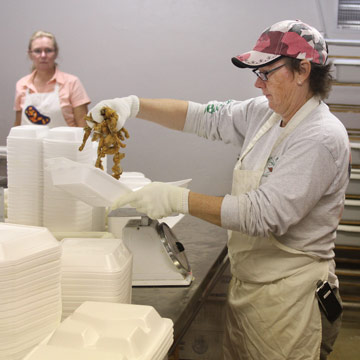 FELLSMERE – Sitting on a bench in front of the Old Fellsmere School's kitchen, Frog Leg Festival founder Fran Adams takes a breather from the heat in the kitchen.
"What was I thinking?" Adams asked rhetorically while reflecting on the last two decades. "I get choked up."
Adams said that she had no idea the small festival that started all those years ago would have developed such momentum.
"It seemed like such a small, silly thing to do," she said of the inaugural Frog Leg Festival, meant to pay homage to the residents who made their living gigging frogs.
"It's staggering," Adams said. "I never thought it would get so big."
The festival has expanded over the years and now boasts more than 100 crafters and vendors, live entertainment, a Midway and carnival games, on top of the fried frog leg and gator tail platters.
Over the course of the four-day festival, which kicked off Thursday evening, between 60,000 and 80,000 people are expected to attend.
To put the number into perspective, the city's population will grow 25 times, Adams said.
Fellsmere Frog Leg Festival President Maggie Sammons said they plan to serve up about 6,500 pounds of frog legs and gator tail – equating to about 7,000 meals.
"Gator's becoming very popular," Sammons said, explaining that they boosted the amount of gator meat to meet the demand.
Teenagers Destiny Powers, of Vero Lake Estates, and Roxy Bush, of Sebastian, were amongst the first to enter the festival Thursday – wasting no time to ride the carnival rides.
"It's awesome," Powers said of the festival.
Bush agreed.
The girls didn't have plans to try the frog legs for a couple reasons – one, they spent their money on wristbands to ride the rides, and two, they're not horribly adventurous when it comes to food, they said.
"I wouldn't mind trying them," Powers said of the frog legs after a few moments of thought.
As for the festival itself, "they need to have this more often," Powers added. "There's nothing to do here but festivals."
For the last 10 years, Sebastian resident Eddie Baxter has been coming to the Fellsmere Frog Leg Festival – for the simple reason of satisfying a craving for frog legs.
"They're very good," he said. "They're always excellent."
While he chowed down on a pound of frog legs, his wife perused the vendor tents, shopping. For him, it's about the frog legs – for her, the shopping, Baxter said.
He planned to take home another pound of legs before leaving Thursday night and said he'd be back again Sunday to eat another pound and take a fourth pound home.
"I'm a frog leg hog," he said, noting that, outside of the occasional order at a Chinese restaurant, these are the only frog legs he eats each year. And those Chinese frog legs are "nothing like this."
The Fellsmere Frog Leg Festival continues through Sunday, Jan. 23, and includes live entertainment, contests, rides, games, shopping, and, of course, food.
***
For more information about the festival, check out VeroNews.com's special Frog Leg Fest section.
Location: Historic Fellsmere School property – County Road 512 at Orange Street.