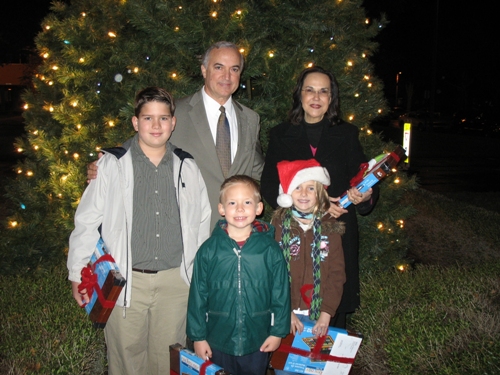 INDIAN RIVER COUNTY – Indian River Medical Center's 20th Annual Tree of Lights Ceremony held on Dec. 9 was a glorious, heartwarming event with a large crowd in attendance. 
IRMC President/CEO Jeff Susi spoke about his 11 years witnessing the generosity of the community and Auxiliary through the Tree of Lights.
Susi then recognized the holiday card design winners who were present – Devon Ellis, 12, grandson of Rebecca Abbott, RRT, CPFT, staff respiratory therapist; Physical Therapy; Jillian Sweetland, 7, daughter of Meg Sweetland, R.N., Dialysis; and Jordan VanAuken, 6, son of Lori VanAuken, ACC clerk, Nursing. Paulina Flores, 9, was not present but was represented by her grand-aunt, Lucinda Zalaya, office coordinator, Physical Therapy.
Each of the holiday card design winners received a deluxe art kit and check for $100.
Donna Fabean, director of Women's Health Care, followed with a speech that introduced the physician leadership team for Women's Health Care that were present – Dr. Susie O'Toole-Evans, Pediatric Department chair; Dr. James Presley, OB/GYN Department chair; Dr. Felix Bigay, medical director of Partners in Women's Health; and Dr. Derrick Clunis, pediatric hospitalist.
"I want to honor them tonight and thank them for being the champions who are making a difference every day for our team," she said.
The money raised through the Tree of Lights is used to purchase necessary equipment and education programs that allow the Women's Health Care team to continue to provide quality healthcare to the community.
Past purchases include birthing beds, infant warmers, fetal monitors, apnea monitors, the overhead lullaby system, thermometers, infant hearing screening equipment, educational programs for nurses, and most recently providing the funds to send six nurses for lactation certification.
Lights are still available for purchase through the Auxiliary. Call (772) 567-4311, ext. 1133, for more details.