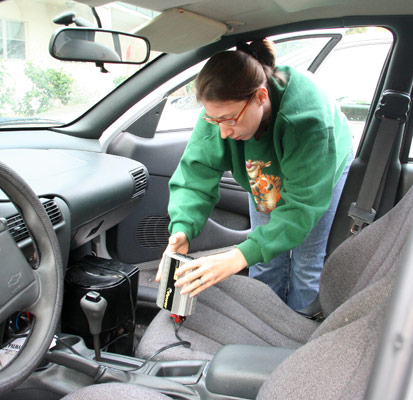 A couple days ago, we woke up extra early – not because the alarm clock went off but because the battery backup on the computer was beeping. It was a sure sign that our electricity was out.
I can handle no heat – we have plenty of blankets. I can handle no lights – the sun was beginning to rise.
But no coffee? Vero Beach, we have a problem!
With two assignments back to back that morning, there was no way I could face the world without a steamy cup of java.
What to do…what to do?!
I have a power inverter in the car, which allows me to plug in a heating pad for long trips or power my laptop when the battery runs low. Why not plug in the coffee pot?
Sigh – it's never as easy as that.
I prepped the coffee pot, braced myself for the chill in the air and went out to the car.
Saying a little prayer to the coffee gods, I plugged in the inverter and the coffee pot and hit "power."
The light flickers – beeps – then nothing.
Try again. Nothing. Again. Nothing.
Another sigh.
No coffee.
Good to find this out now, instead of in the middle of a hurricane. Now I'll pick up instant coffee to put in my hurricane survival kit for next season.
Running out of time to get a cup of coffee before my first assignment, Keith and I left for the office, which was just down the road from the interview.
Finally – with a warm cup of fresh brewed coffee in my hands, I could tackle the day!
Happy Eats – and stay warm out there!