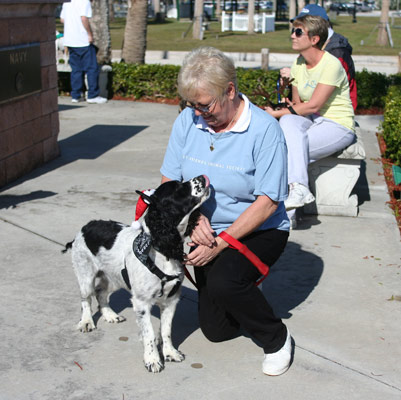 SEBASTIAN — A few hundred dogs and their friends took to Indian River Drive Saturday morning in a 2-mile dog-walk to benefit HALO, the no-kill animal shelter.
"It's just the right thing to do," dog walk participant Robert Lombardi said of getting involved. "Animals deserve to be taken in and not stranded." He and his mother, Nancy Greenwald, brought two of the family's five dogs to the 4th Annual HALO Dog Walk and Poker Run.
"It would've gotten a little crazy," Lombardi said if they had brought the entire pack, which includes Jamie, Jasmine and Jade – and walkers Jiminy and Jack.
Greenwald said she wanted to participate in the walk to show her support for "such a great place."
She has fostered animals from HALO in the past and wanted to continue to help.
Skylar, a Spaniel-Retriever mix, was recently adopted from HALO and appeared eager to get walking.
He brought along his human Lisa Billic and four-legged friend, Bella, a Chinese Crested.
"It's a good cause," Billic said of taking part in the walk. "They're compassionate there," she added about the volunteers at HALO. "I wouldn't go anywhere else" to adopt a pet.
Jacque Petrone, HALO founder, said that this year's Dog Walk and Poker Run looks to be the best one yet. A dollar amount from the fund-raiser was not immediately available.
The funds will go to support the continued operation of the no-kill animal shelter.
"There are so many in need of homes," Petrone said.
The walk helps to raise community awareness of not just the needs of animals but also the existence of the organization.
Three businesses offered their assistance by participating as stops for the Poker Walk. Suzy's Tiki, Earl's Hideaway and Captain Hiram's all offered a brief respite for walkers and a chance to improve their poker hands.
The Sebastian Police Department's K-9 Unit also joined in the event, offering a demonstration at HALO's site on US 1.
"It's a beautiful day," Petrone said. "Thank God."
Last year's Dog Walk was sparsely attended due to inclement weather, she explained. Today, the weather could not have been nicer.
HALO is always in need of volunteers and financial contributions to keep going, she said. The facility offers a boutique with items for sale to benefit the shelter and cat and dog grooming, which also supports the operations. Boarding, too, is available.
On top of regular day-to-day needs, Petrone said she has future plans for expanding the facility but is in dire need of both financial donations and labor.
She estimates the planned 2,000-square-foot expansion could cost $75,000 to complete – though it could be less if a contractor were to volunteer time and service.
"I have so many plans," Petrone said.
The expansion, she explained would add an adoption room, a larger cat room, and a room for cats with Feline HIV and Feline Leukemia.
For information about donating or about the shelter, visit www.HALORescueFL.org or call (772) 589-7297 or visit HALO at 710 Jackson St., Sebastian.