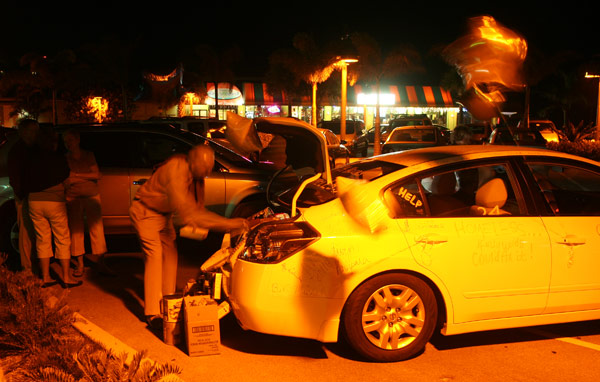 VERO BEACH — For an hour at a time, volunteers took turns sitting in a white sedan outside Ocean Grill in Sexton Plaza starting at noon Sunday.
The round-robin, which ends noon Monday, served to simulate homelessness – a situation approximately 650 people in Indian River County find themselves in at any given time, according to Roger Sobkowiak, of the Homeless Family Center. Of those, 210 are children. This was the first year the center conducted a 24-hour simulation to help drive home the point of homelessness.
"They all came together," Sobkowiak said of the City of Vero Beach, the businesses in Sexton Plaza, and those throughout the rest of the city.
Indian River Chamber of Commerce President Penny Chandler and Cliff Norris Sr., owner of Pelican Plaza, spent an hour Sunday evening sitting in the car, getting a small taste of what it might be like to be homeless, living out of a car.
"The number (of homeless) for a small county like ours is staggering," Chandler said.
She noted that she, and the staff at the Chamber, have met several homeless people who live near the Chamber office and around Pocahontas Park.
One homeless woman Chandler met told her that living one day on the street felt like an entire week.
"I can see that, absolutely," Chandler said.
Norris said that he was glad to be part of the event to raise awareness of the community's homeless, noting that while driving around town, he will see the homeless moving from area to area.
"It's a problem a lot of people like to turn their heads away from," Chandler said, adding that many more people could be at risk.
All it could take is a major illness, she explained.
"It could be the difference," Chandler said, of just one paycheck.
Sobkowiak said that earlier in the day a woman drove by and spoke with Homeless Family Center Board member Liz Mayo. The woman, who was not identified, told Mayo that she was homeless, living out of her car.
She told Mayo that she had never been on A-1-A but something told her to that day.
Mayo was able to give the woman information on where she could go for help and assistance.
"We hit a home run with that one," Sobkowiak said, explaining that they were able to make a connection with her that might not otherwise have been made.
Sunday and Monday's "live-in" is the kick-off to National Hunger and Homelessness Awareness Week, which runs through Nov. 20.
Throughout the week, the US Post Offices and various local businesses will be taking collections to help the homeless. Many will be offering discounts or donating a portion of their proceeds on particular days to support the cause.
The Homeless Family Center provides shelter and other services to approximately 70 people, including 35 children. Nearly 60 more people are on a waiting list, Sobkowiak said.
"Each family is different," he said, though the most common scenario tends to be that of a mom, age 34, with two kids. Half of those moms have a high school degree. The other half have faced felony drug charges.
Many have just $50 in their pockets, two suitcases and are $2,000 in debt, Sobkowiak said.
For more information about the week's events and the cause they benefit, visit www.HomelessFamilyCenter.com or call (772) 794-9874.
648 – # homeless in Indian River County
210 – # homeless children in the county
806 – people Homeless Family Center had to turn away last year due to a lack of space
76% – those who became homeless in the past year who had lived in the county at least a year prior to becoming homeless
31,413 – meals HFC served last year
39,309 – education hours given to HFC residents
$31 – the amount it costs HFC per resident/day to house, feed, teach, counsel, and provide other services