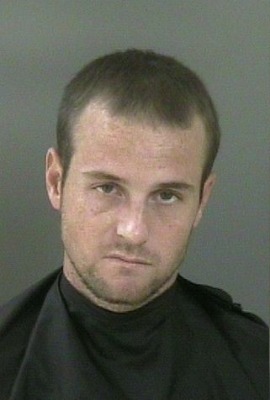 VERO BEACH – The Vero Beach Police Department announced Tuesday that it had arrested a man accused in several burglaries in the city and on the beach.
Authorities arrested Travis Wayne Mugrauer, 26, of the 2400 block of Desoto Avenue, in Vero Beach, on Sunday. He is being held at the county jail on $387,500 bond. The arrest came after a 7-week investigation into numerous residential burglaries that occurred within the city between Sept. 8 and Oct. 11.
According to the Vero Beach Police Department, the majority of the burglaries occurred in the Royal Palm Court neighborhood, located between US 1 and Vero Beach Country Club.
Two other burglaries were in the central beach area, authorities said.
An extensive investigation involving several Vero Beach Police Department detectives and uniformed officers led to several local pawnshops where they were able to identify a suspect.
Mugrauer faces four counts of burglary of a structure, three counts of third degree grand theft, four counts of giving false information to a secondhand dealer, three counts of dealing in stolen property, and one count of petit theft, according to his arrest report.
A search of Mugrauer's apartment revealed several pieces of jewelry, which were later positively identified by burglary victims, the police department said.
Authorities are investigating more burglaries to determine whether Mugrauer was involved.