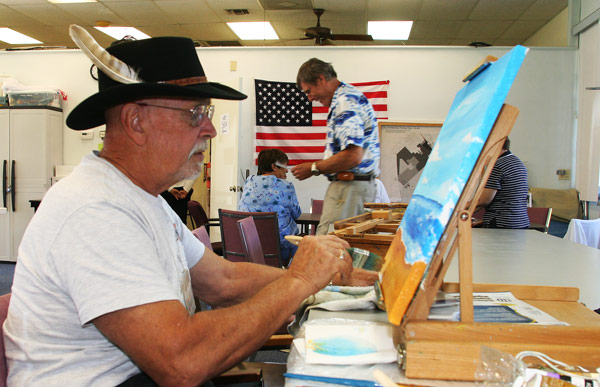 SEBASTIAN – The paint on the walls had barely finished drying before volunteers started hanging pieces of art on them. Members were still straightening frames as members of the public poured in, eager for a look at Sebastian's new arts center.
"We just finished" Friday evening said Judy Burgarella of opening the abandoned end of Old City Hall. "It was a pretty big mess," she said. But, "we pulled our resources to fix it up."
A few hundred art enthusiasts walked the revamped rooms, musing over paintings that ranged from so real they looked like photographs to abstracts that took a viewers a minute to realize the full impact.
"It came out better than we thought, but we're still working on it," Burgarella said.
The Sebastian River Art Club was granted permission by the Sebastian City Council to take over the west end of 1245 Main Street and convert the space into a temporary arts center.
The space is expected to have a mix of both members' and the public's art work. Art classes, too, could be held in the center, though details have not yet been worked out.
The center is scheduled to be open to the public from 11 a.m. to 3 p.m. Tuesdays and Thursdays to start.
As Sebastian River Art Club members make themselves available, the arts center could be open more days or some evenings, according to organizer Toni Hill.
Both Burgarella and Hill are aware that the use of the old city hall building is temporary, they said.
A prior Sebastian City Council decided to vacate the old building in favor of building anew when consultants pointed out deficiencies in the structure. The plan at that time had been to build a new City Hall and demolish the old.
Instead, the council decided to leave the old facility standing and reserve it for civic groups and public space.
The current Sebastian City Council has discussed but not decided on the fate of the old facility.
"It's still cheaper than building a new arts center," Burgarella said, later adding, "We're very grateful."
Anyone interested in learning more about the new arts center or becoming a member of the Sebastian River Art Club can contact Judy Burgarella at (772) 581-8284 or Toni Hill at (772) 918-4203 or e-mail tonijhill@me.com.