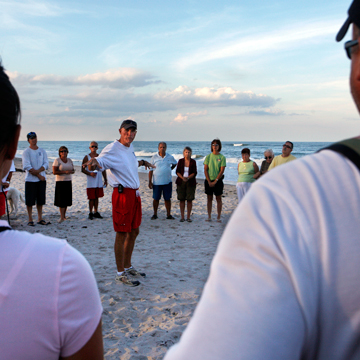 INDIAN RIVER COUNTY — A group of concerned citizens and lifeguards showed up at Treasure Shores Beach Park Thursday night to mark the final day the county's northernmost beach will have lifeguards on duty.
Those gathered had lobbied the County Commission to find $119,000 in the budget to fund the two full-time positions that were eliminated. The lifeguards insist that cutting the positions will eventually lead to a tragedy at the park and say they will at least temporarily watch beach goers as volunteers.
"We won't be there from 9 to 5 like we were and it will be more educational to let people know that the beach is unguarded, but almost everybody has volunteered to spend some time out here," said lifeguard Joe McManus, one of the organizers of the vigil.
The County Commission voted 3-2 earlier this month to cut the recreation budget and eliminate two positions starting Oct. 1 as part of $15 million in budget cuts this year to avoid raising taxes.
"It was an evaluation we had to make when we looked at the whole budget," County Administrator Joe Baird said earlier this month. "It's unfortunate, but we have made cuts everywhere. And the people have other options, there are other guarded beaches they can visit, there are four other beaches in the county and three in Vero Beach. You have to remember that 99 percent of the county residents that go to Treasure Shores have to go by a guarded beach to get there."
But to the crowd of about 50 Thursday evening, Treasure Shore, which recently was named by a travel magazine as the second-best beach in Florida, was their beach with shared memories and they will miss the sense of community that has been built since it first opened in 1991.
"Since we began coming to this beach seven years ago, I have taken for granted the folks that have manned those towers," said Frank Bilotta, who engineered a petition drive signed by 3,100 people to keep the station open. "I want to thank you for the lives you have saved and protected here."
Commissioner Peter O'Bryan, who along with Commissioner Joe Flescher voted to keep the lifeguard station open, attended the event.
"Going forward we need to pull together to do the right thing and the right thing is to save lives," he said.
However, he said at this point it would be up to one of the commissioners voting against keeping the beach guarded — Gary Wheeler, Bob Solari or Wesley Davis — to offer a way to re-open the life guard station this year.
"I feel like it is up to one of the three to come up with something, if they wanted to do that," he said. "We have voted and now the policy has been set and it is up to them if they want to change it."
McManus said the fight to re-open the station is not over and urged those gathered to stay involved.
"We've got to keep our focus and keep this in the public eye," he said.