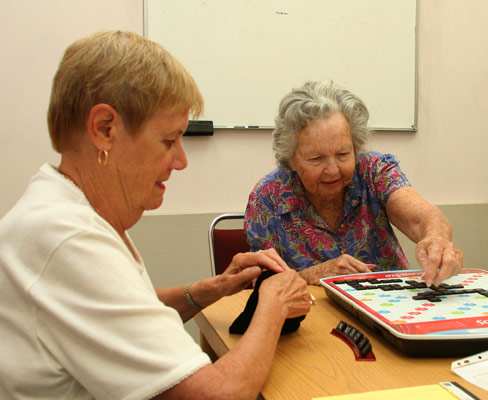 SEBASTIAN – Whether you're new to the ways of Scrabble or are a lifelong player, there are two groups meeting at the North County Library in Sebastian that would love for you to join.
The Sebastian Scrabble Club is a registered organization with the National Scrabble Association and is for serious Scrabble players.
A more informal group meets, too, at the library for those who are less intense about following the prescribed rules.
They both meet on Saturdays at the library on County Road 512.
For Scrabble Club member Faith Card, finding the group two years ago was a blessing. She and her husband used to play Scrabble regularly, at home, until he passed away.
"I was so happy to find a place to play," Card said.
She's a serious player, participating in competitions and a stickler for rules.
"I have very little patience for beginners – unless I'm teaching," Card said, chuckling.
Led by organizer Helen Russell, the Scrabble Club meets from 1 to 4 p.m. Saturdays in a conference room at the library.
"I have Scrabbleitis," Russell said, explaining that she dreams in words.
Fellow member Joan Brasher, too, is always thinking and hunting for words she could use in her next match.
She said she recently learned a new word – "leveret," which means rabbit.
Earlier in the day, another group of Scrabble players meets in the same conference room.
Not an official club or recognized organization, the group plays for the fun of it and the social aspects.
"That's why we play Scrabble," said Kathy Otremba, "so we can go out to lunch."
Feeling sorry for her opponent, Joy Relkin, Otremba offered Relkin the opportunity to decide where they would eat.
"She always beats me," Relkin said of Otremba – though not as soundly as this round.
"I've had a string of luck lately," Otremba said.
The women have been playing Scrabble for decades, though just for fun.
"The game is never the same," Relkin said. "It's always different."
One of the aspects that appeals to Otremba is the constant learning of new words.
"They're always adding new words," she said.
The informal group meets at the North County Library from 10 a.m. to 1 p.m.
Scrabble players planning to meet with either organization are encouraged to bring their own boards.
For more information about the Scrabble Club, call Helen Russell at (772) 571-0117. For information about the informal group, call the North County Library at (772) 589-1355.
The North County Library is located at 1001 Sebastian Blvd. (CR 512), Sebastian.