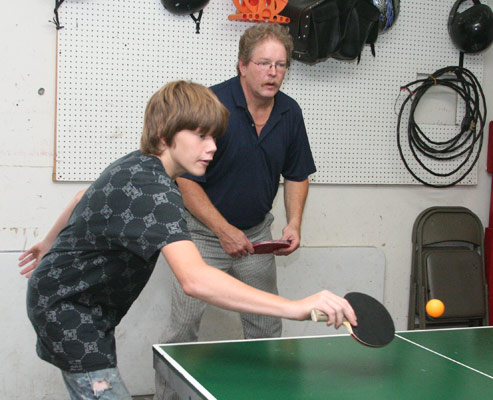 VERO BEACH – A group of table tennis players are searching high and low for a place they can set up a club. They need space, and time.
So far, they've been able to confirm both at the Leisure Square Recreation Center on Sundays – but only for about an hour – and no agreement has been formalized.
Karl Freitag, organizer of the Vero Beach Table Tennis Club, said he would prefer having a site for three to four hours two nights a week. "I'm just pushing, trying to make it happen," he said.
Freitag took up table tennis – more commonly referred to as ping pong – about five years ago after taking a hiatus from his college-playing days.
"I needed to do some sort of exercise," he said, noting that the heat of the outside meant he had to stay indoors. "I was stiff. I wasn't limber at all."
Shortly after taking up play again, Freitag said he could move.
He's not the only one in the group to play table tennis for the exercise.
Larry Martin has had open-heart surgery and 10 stints put in place. But even so, he plays table tennis to keep himself active.
The first time he picked up the paddle after surgery, he said he could only play to seven points. Now, he's playing 30-plus games at any given time.
He, and others from the newly formed club, play at Cunningham's Pool and Darts on Miracle Mile. The downside to playing there, they said, is the smoke and lack of multiple tables.
At most, only four players can take to the single table at a time – and when several people want to play, it means there's going to be a wait.
Steve Hutchison, who offered up his garage for the inaugural meeting of the Vero Beach Table Tennis Club, said that he'd like to have a better place to play.
"I'm just a garage player," he said, just before taking on Freitag in a scrimmage match in the garage.
The members took turns at the table, volleying the ball over the net.
"I may not be great," Cheryl Martin said, "but I love to play it."
There's no relation between Larry and Cheryl Martin except their fondness for table tennis.
Ideally, Freitag said he'd like to find a place for four tables to allow club members to play at their own level. He explained that most table tennis clubs have four – one for beginners, two for intermediates, and one for advanced players.
"People gravitate where they belong," Freitag said of their ability levels.
Once a location is secured, the club leader said he'd like to organize leagues and challenges, and even championship tournaments.
They could take on other table tennis clubs in the region, including the Palm Bay seniors club, the table tennis club in Cocoa Beach, and others.
"Everyone is welcome," Freitag said.
For more information about the Vero Beach Table Tennis Club or to suggest a possible site for the club, e-mail Freitag at info@verobeachtennis.com or visit www.VeroBeachTableTennis.com.