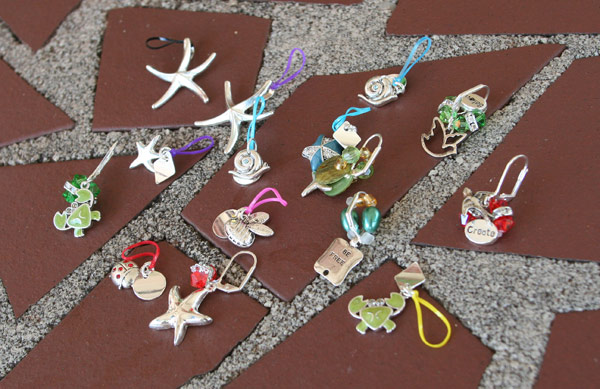 VERO BEACH – Sitting at home watching the latest news from the Gulf of Mexico oil spill Vero Beach resident Nicole LeGrano knew she had to do something.
"You see so many photos," she said of the oil-covered birds and turtles. "It really just sickened me to my core."
After navigating a sea of governmental red tape, LeGrano formed the non-profit Enduring Wildlife, an organization that would assist in raising awareness and funds and collecting donated items to aid in the oil spill recovery efforts.
To get the ball rolling on bringing awareness to the group, LeGrano has hand-crafted charms that can be used to decorate sandals, flip-flops and handbags.
"They're all a little different," LeGrano said, pulling the charms out of small round tins. She hopes that people will see others wearing them and ask where they got the charms.
"It's just starting to get the word out there," she said of the $10 charms.
Enduring Wildlife will also be hosting an online art auction, selling pieces that have been donated by artists from across the country who wish to help the oil spill relief cause.
Though the oil has yet to reach Indian River County's shores, LeGrano said she knows it is coming and the area has to be prepared.
"We are going to be affected by it," she said.
Part of Enduring Wildlife's charge is to help build a bridge between the environment and the community – helping people to know about cleanup events, whether oil spill related or not.
"There is such as disconnect," LeGrano said between such efforts and the community.
The group's website, www.EnduringWildlife.com, will eventually have a calendar of events – be they beach cleanups, volunteer drives, or other such get-togethers.
LeGrano said she knows the Vero Beach community is very generous and wants to help, which is what she wants to tap into with Enduring Wildlife.
"They just don't know where to look," she said.
While the group plans on helping in any way possible, they have identified one agency they expect to concentrate on.
Suncoast Seabird Sanctuary, located in Indian Shores in Pinellas County on the west coast, is one of many groups helping to care for the oiled birds.
"It has a huge list of needs," LeGrano said, explaining that if Enduring Wildlife can help fulfill some of those needs, the sanctuary could then better focus on the task at hand.
"The burden needs to be shared in a huge way," LeGrano said.
Along with raising funds that would be sent to Suncoast Seabird Sanctuary, Enduring Wildlife will be collecting bottles of Dawn dish detergent, toothbrushes, animal crates, towels, vegetable oil and other items.
"We're not turning anything away," she said.
For more information about Enduring Wildlife and how to help, visit www.EnduringWildlife.com or e-mail Nicole LeGrano at info@enduringwildlife.com.
or e-mail Nicole LeGrano at info@enduringwildlife.org.