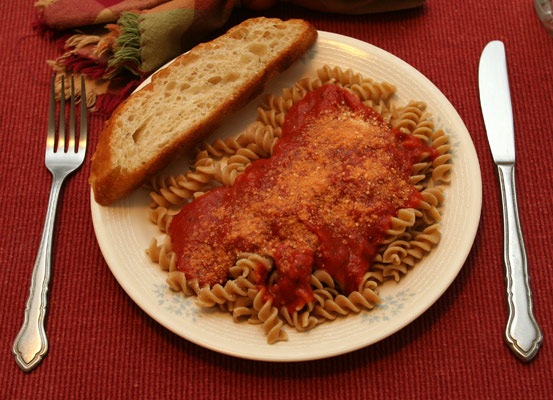 So I know I was supposed to post a blog update last week — and the week before I was on vacation. I can only offer my most abject apologies. I hope you didn't miss me too much.
Remember not that long ago I wrote about planning and God laughing? Well…need I say more?
Keith and I went on vacation two weeks ago and visited friends and family in northern Indiana. I say we were there for the friends and family — it was really for the food! We made it a point to stop in/around Cincinnati on the way up and the way back so Keith could relive his childhood at Pasquale's — an Italian-style sandwich shop — and Dixie Chili.
I have to say, if I had grown up in the Cincy area, I don't know that I would have ever wanted to leave.
While in good ol' Fort Wayne, Ind., Keith and I got to sample a few of my favorite eateries, including El Azteca – a Central America-style food that had my dad (and brother) more than a little jealous. I brought back a lunch menu for Dad – he wasn't sure if I was trying to rub it in.
We also stopped at DeBrand Fine Chocolates to pick up their famous chocolate covered strawberries, a few turtles, and a sampling of truffles. I about died and went to chocolate heaven!
At any rate, one week later, we came back to Vero Beach to a barren refrigerator and me with a cold. We stopped at a gas station to pick up milk and a loaf of bread. It looked like we might be surviving on peanut butter and jelly sandwiches until we could do a grocery run.
That Monday, we followed up on a news tip we received and met with a wonderful lady, Rita Richter. During the course of our interview about Send Our Soldiers Cookies discerned that Keith and I were without food and sent us home with a loaf of homemade Roman bread and some Snickerdoodle cookies.
The bread, which I initially mistook for Foccacia – goes to show how little I know about breads, went perfectly with our whole wheat rotini with marinara dinner that night and served as a nice complement to our meals the rest of the week.
So, a very big thank you goes out to Mrs. Richter.
By the end of the week, my cold progressed to the point where cooking was out of the question for me — not only did I just not have the energy — the last thing I wanted to do was get Keith sick, too.
Poor Keith has had to fend for himself this whole week, which means crafting pizza from store-bought crust, salsa and shredded cheese; warmed up can of chili; and miscellaneous sandwiches.
I, on the other hand, have essentially received nourishment through boxed macaroni and cheese and a variety of canned soups. If only it were cold enough outside that I wouldn't roast while eating the soup.
*Sigh*
Good news for Keith, though. My cold seems to be waning and I feel my strength and appetite returning. I'm cautiously optimistic I'll be back in the kitchen next week.
Here's to keeping my fingers crossed!
Until then,Happy Eats!