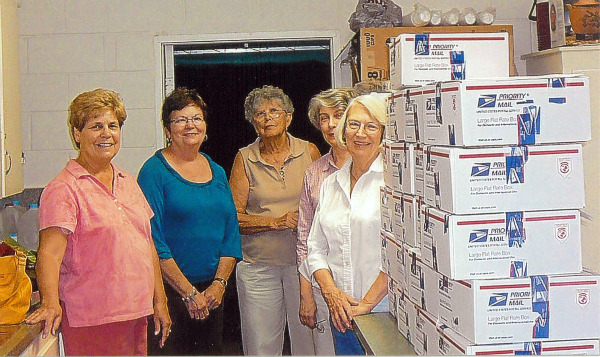 SEBASTIAN – Three years ago, Sebastian resident Rita Richter wanted to send her grandson a care package while he served in the Army and stationed in Northwest Iraq.
That simple desire quickly grew into a community's endeavor to remember American troops by sending care packages of homemade cookies to as many soldiers overseas as possible – with the formation of SOS Cookies, Send Our Soldiers Cookies.
"It was no trouble at all," Richter said of pulling together a group of women who wished to get involved. The word got out and "they came with cookies."
The Roseland Women's Club and various church groups in and around Sebastian have gotten involved. The VFW, Elks, American Legion, too, have been supportive, as has the Sebastian Re/Max, according to Richter.
"The groups here have been very supportive of us," she said.
While SOS Cookies consists of mostly women, the group is open to anyone and everyone who has a desire to bake cookies or help pack them up and ship them out.
"I tie up the whole Post Office with my boxes," Richter said.
Last week, the group got together at the Roseland Community Building and packed up more than a dozen boxes of cookies. Each box weighed between eight and 10 pounds – counting the cookies has become a chore the group has long since abandoned.
While the troops' favorite appears to be chocolate chip, Richter and SOS Cookies have had to modify the recipe to make the chocolate chip cookies shippable to the Middle East during the summer.
Instead of chocolate chips, the group has used M&Ms candies – they give the chocolate flavor without melting and becoming a mess.
SOS Cookies meets on the second Thursday of each month and does not take a summer hiatus, Richter said. And while they are always looking for more cookie bakers to join their ranks, what the group really needs are names of American military servicemen and women who are stationed overseas.
"I'd really like to think we can do for our community," Richter said of sending packages to soldiers who call Indian River County home. The group does not discriminate, though, and sends packages to troops, no matter where they are from.
Richter said the group bakes a wide variety of cookies, from M&Ms cookies and Snickerdoodles to Oatmeal Almond and Sugar cookies.
"We get to send some really good stuff," she said.
To avoid potential allergic reactions, the cookies are labeled, so the troops know if there are nuts in them.
Each package arrives with a note from SOS Cookies, which reads in part, "Something loving from our ovens. Hope that these cookies will remind you that we care and remember you."
The note calls the cookies as the soldiers have repeatedly called them – a "taste of home."
Along with seeking more bakers and names of soldiers to send cookies to, SOS Cookies is also looking for financial assistance to continue shipping the boxes – which currently run $12.50 a box.
Richter said the group would also be willing to accept donations of ingredients commonly used in cookies.
For more information about how to help or to get involved, call Rita Richter at (772) 388-5920 or e-mail soscookies@comcast.net. Financial donations may be made out to SOS Cookies and sent to SOS Cookies, 608 Atlantus Terrace, Sebastian, FL 32958.
SOS Cookies meets at 6 p.m. on the second Thursday of the month at the Roseland Community Building, 12973 Bay St., Sebastian.