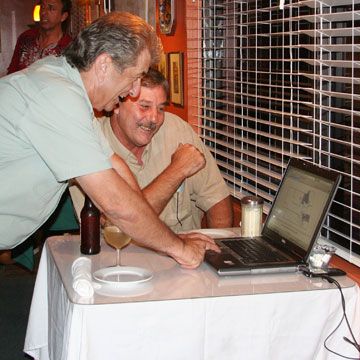 There were a few surprises last night, if you keep up with local politics you know what I'm referring to, but this is a camera blog so you'll have to read "Political Junkie" for the things I can't say here.
All in all it was an all right shoot. Tom McCarthy was in Vero covering their candidates and I was in Sebastian.
My travels took me all over Sebastian. I was at the VFW Post 10210 where they had a heck of a spread. Later that night I visited a candidate at the No Name Sports Bar and Basil Ristorante Italiano. Both establishments I hope to visit off the clock. Thank you all that offered me a drink or food. I've just got a thing with sticky fingers and my camera equipment. Although the longer I was at Basil Ristorante the more my mouth watered.
Technical problems faced the candidates and me but were overcome. At the VFW Post 10210 their wireless connection wouldn't work so they had to hard lined a laptop and hook it up to a television. Al Paternoster's watch party was saved by a supporter with a cell phone that enabled her laptop to connect to the election site.
Ah yes, and there was me. Well folks, I've done it again, another flash bites the dust. I didn't get clobbered by a candidate or drop my camera. Like a rotting tree my flash simply expired. I know, it would have been a better story if Andrea Coy would have fallen off her chair with me dropping my camera to catch her, but some things just cease to work. Luckily my backup camera had a pop up flash, that yes, I hate. But in a pinch it does an all right job.
I hope everyone had a safe night and a bottle of pain relievers for the morning.