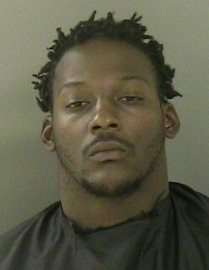 By Debbie Carson, Online Editor
GIFFORD — Four men were arrested and five pit bulls placed into protective custody after the Indian River County Sheriff's Office discovered a dog fight in Gifford on Saturday.
Two of the five dogs needed medical care, according to a press release sent from the Sheriff's Office. What kind of medical attention the dogs received was not released.
"We have a zero tolerance for this type of crime in Indian River County," said Sheriff Deryl Loar in a prepared statement. "This is animal cruelty in the worst form."
Janet Winikoff, director of education of the Humane Society of Vero Beach and Indian River County, said that no details would be released as to the condition of the dogs or where the dogs are currently being held.
"We want to make sure they are safe," she said, adding, "They will receive whatever care needed.
The Sheriff's Office responded to a call about a possible dog fight at 3061 44th Rd. in Gifford at 3:30 p.m. Saturday, according to the release.
Deputies at the scene reported that two brown pit bulls were fighting each other in a circle and two men – identified as Kenneth Lamont Smith, 31, and Ervin Lee Everett Jr., 21, – were holding the dogs leashes to keep the dogs on each other, according to the men's arrest reports.
Another man at the scene, 31-year-old Jamiey Tonino Parker, saw the deputies, yelled "Cops!" and tried to flee the scene on foot, the report states.
Everett, Smith and Christopher Lamar Jones, 30, also tried to flee. One man, who has not been identified, is the only one who eluded capture.
All four men face charges of felony fighting/baiting animals, according to their arrest reports.
Jamiey Tonino Parker, of 3610 44th Rd., Gifford, has been released from the county jail on $5,000 bond.
Everett, of Orlando, was released from jail on $5,500 bond. He faces an additional charge of resisting arrest without violence.
Kenneth Lamont Smith, of 4625 56th Ave., Gifford, is being held at the county jail on $5,500. He, too, faces a charge of resisting arrest without violence.
Christopher Lamar Jones, of 4410 31st Ave., Gifford, was released on $5,000 bond.