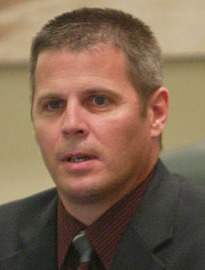 Name: Bob McPartlanAge: 43Place of Birth: Brooklyn, New YorkLength of residence in Indian River County: 10 years in SebastianOccupation: Program AdministratorEmployer: Florida Department of Children and FamiliesMarital status: MarriedChildren: 3Spouse's Name: Aimee McPartlanSpouse's Occupation: Guidance Counselor Intern
Experience you feel is most relevant to serving in public office and why:
The ability to use common sense and a sense of urgency as demonstrated daily while conducting child abuse investigations on every level. Getting to the root of a problem and developing ways to ensure child safety.
Civic and Volunteer Leadership Experience:
Little League Softball Coach – Sebastian River Little LeagueMember of St. Sebastian Catholic ChurchMember of the Treasure Coast Elementary PTA
Candidate Questions
1. What is the biggest challenge facing Sebastian?
Laying the groundwork for economic growth is vital to the future of Sebastian. The City must make it attractive for businesses to start up and/or relocate to our area. The City should make it as easy as possible to get established and conduct business as long as they are a good fit for Sebastian. The tax abatement referendum, which is on the ballot, is a step in the right direction. We need to have conversations with our local businesses as to what is working and what is not working. How can the City be supportive without granting entitlements. Quality of life for our residents is also a concern.
2. What is your vision for the Sebastian Riverfront area and what steps need to be taken to achieve that goal?
Enhancing the working waterfront concept and developing a private/public partnership for its success. The State grant which assisted in the purchase of the old Hurricane Harbor was the first step. Encouraging businesses to become established along the waterfront would be ongoing and ensuring that the City Government makes that process as easy as possible.
3. What is your position on CRA (Community Redevelopment Area) expenditure allocations in terms of how much is spent in business incentives and infrastructure improvements?
I support the CRA and the allocation of the CRA funds in the waterfront area. If business in the CRA district is successful, the City of Sebastian benefits. Anything that makes that business area more attractive ensures a bright future for the City of Sebastian.
4. One of the city's efforts currently is to attract new tenants to the Sebastian Municipal Airport. If elected to council, what would you do to continue or change those efforts?
I would ensure that an appropriate infrastructure was in place at the airport, i.e: availability of high speed internet for any tenants, easily accessible roads, and appropriate signage.
5. What is your opinion of the Sebastian Clambake and how proceeds are delegated? What, if any, changes would you like to see for the annual event?
The Sebastian Clambake is a great event for the City. It promotes Sebastian and sets the tone for civic pride. The proceeds raised by the Clambake have helped to provide thousands of dollars to local organizations such as the Boys and Girls Club, Sebastian Soccer Association, and many other worthy organizations. It is wonderful to see this event not only providing funds for the community but for these worthy causes.
6. Are there possibilities for partnerships or efficiencies by working with Fellsmere, Vero Beach or the county? If so, how would you like the city to work with those entities?
Currently, the City is working with all other municipalities and the county on an interlocal service boundary agreement. As always, the best interests of Sebastian must be considered, first and foremost.
Any other comments?
In light of the fact that there is some negative campaigning in this Council race I am providing a link to a State of Florida Inspector General report from 2006. People are taking the report and completely twisting it around to the point of libel. Some are saying that I admitted to having subordinates lie on government documents. Nowhere in the report does it reference myself or anyone from the Department of Children and Families as having lied, falsified or fabricated.
They also want to convey the perception that I am distrustful and not transparent as a result of this report.
I can understand how some candidates may engage in bashing others to take the focus off themselves; however I am saddened by the absolute falsehood this presents not only for myself, but for the 40+ child abuse investigators I lead and the countless families we serve.
The Department of Children and Families has made great strides in transparency over the years, which is fully supported by all who serve. The Inspector General Report also is a testament to this transparency.
There is no room for falsification or lying when it comes to child abuse investigations. The Department not only terminates people for such infractions, but looks to have them prosecuted to the fullest extent of the law.
I have run a positive campaign and have not had a bad word to say about any of the candidates or current council members nor will I choose to spew any such venom.
I stand for Faith, Family and Commitment to Service, which some are trying to taint. Should anyone question my character I encourage them to read the full report as well as feel free to contact me with any questions.
The report can be found here: www.dcf.state.fl.us