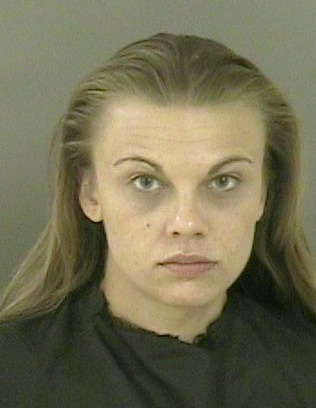 SEBASTIAN — The Sebastian Police Department arrested two residents on drug charges after one of the suspects swiped her parents' credit cards, racking up $2,600 in gas, lodging, food and other purchases.
Police arrested Dawn Parrish, 28, and her boyfriend, Vincent Massimo, 25, both of Sebastian, on Thursday, Aug. 20, after completing a drug and theft investigation.
According to police, the couple worked together to get oxycodone, Xanax and Soma – prescription drugs for pain and anxiety. Authorities began investigating Parrish after her mother and step-father reported that she had taken their credit cards and spent more than $2,600 on numerous purchases. Parrish was also accused of paying her utility bill – an amount more than $550 – with her mother's business check.
During the course of that investigation, Sebastian police detectives came into information that Parrish and her boyfriend were in Ft. Lauderdale at a pain clinic to get prescription medications.
Detectives then detained Parrish, who told them about the credit cards and check and that Massimo and she went to the clinic and split the cost of the narcotics, authorities said.
Parrish explained that Massimo took the oxycodone and put the pills in a safe in his bedroom. She also told authorities that her boyfriend had traded some of the drugs for a GPS system.
Investigators then went to Massimo's home and, with the 25-year-old's parents' cooperation, recovered and opened the safe, finding Xanax pills, but no oxycodone.
When authorities questioned Massimo, he became uncooperative, according to the police department.
Detectives later found two empty oxycodone bottles and only 7 1/2 pills out of the 252 that were prescribed. They also found the Soma pills.
Massimo was arrested on a charge of trafficking oxycodone and is being held at the county jail on $100,000 bond.
He has not been charged for Xanax or Soma possession.
Parrish faces 13 charges that include the following:
Grand theft – 2 counts
Forgery – 3 counts
Uttering a forged instrument – 3 counts
Criminal use of a personal ID – 2 counts
Fraudulent use of a credit card – 2 counts
Possession of a controlled substance with intent to distribute – 1 count
She is being held at the county jail on $70,000 bond.