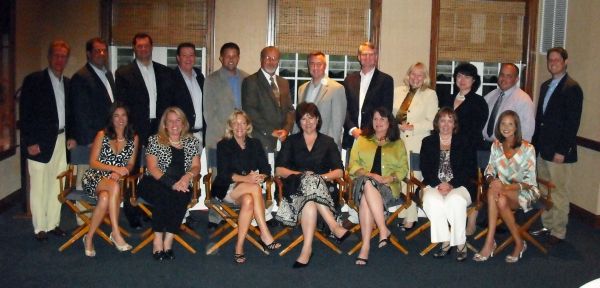 COUNTY — Leadership Indian River County is a community leadership program offered by the Indian River County Chamber of Commerce. The 7-session training program brings together a cross-section of the community, representing a social, economic and geographic population for a hands-on, multi-disciplinary study of our community. Participants will gain an introduction to the infrastructure, natural resources and current political issues of Indian River County and an understanding of what constitutes leadership. The program is based on a model that incorporates nourishing and developing community leaders: building community knowledge, developing leadership skills, and gaining an understanding of community stewardship. The program will prepare participants for more active involvement in public and private sectors and civic responsibility creating a better informed and vigorous leadership with a greater understanding of county needs- now and in the future.
Graduates for the 2009 class are: Pamela Alderman, Florida Atlantic University; Dan Bockhorst, RBC Bank; Amy Brunjes, FPL; Muffy Forsythe, Solantic; Karen Gable, Seacoast National Bank; Kris Gault, Treasure and Space Coast Radio; Toby Hill, The Hill Group; Anthony Iacono, Indian River State College; Amanda Lipscombe, Indian River County Chamber of Commerce; Carter Morrison, Indian River County School Board; Jeffrey Murray, Fellsmere Estates, LLC; James Newbrough, VNA of the Treasure Coast; Jason Odom, Gould, Cooksey, Fennell, PA; Kim Prado, 1st Peoples Bank; Todd Racine, Indian River County School Board; David Rivers, Community Church of Vero Beach; Liz Sherman, Liz Sherman Real Estate; Rosanne Socci, Disney's Vero Beach Resort; Xavier Tovar, Disney's Vero Beach Resort; Susan Viviano, Signature Kitchens.
INFORMATION: Call Beverly Keehner, Indian River County Chamber of Commerce, (772) 567-3491.***Pictured above: Standing (L to R) : Toby Hill, Todd Racine, Jason Odom, Anthony Iacono, David Rivers, David Hunter, James Newbrough, Dan Bockhorst, Pamela Alderman, Rosanne Socci, Xavier Tovar, Jeffrey Murray. Sitting (L to R): Amanda Lipscombe, Susan Viviano, Amy Brunjes, Karen Gable, Liz Sherman, Kim Prado, Kris Gault.