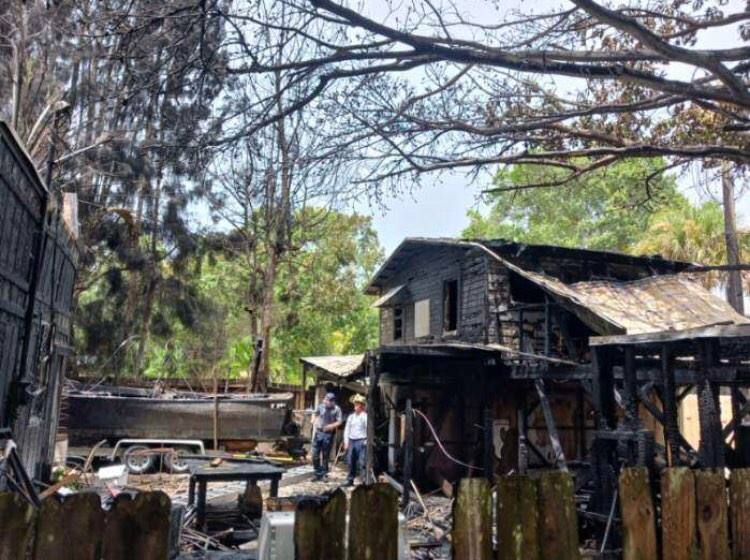 VERO BEACH — Two men, a woman and two cats were displaced after a fire ignited Tuesday at a residence, according to fire rescue crews. No injuries were reported, Indian River County Fire Rescue Bureau Chief Richard Marini said.
Police and fire rescue crews were dispatched to the blaze at 11:32 a.m. at the home in the 1900 block of 19th Avenue, Vero Beach police spokesperson Darrell Rivers said. The property has a single-family residence and a detached apartment, along with a boat and a pickup truck in the back yard, all of which caught fire, Rivers said.
It was unclear where the flames originated.
"The home suffered some moderate damage from the fire, but the detached apartment was totally destroyed," Rivers said. Rivers said the apartment was fully engulfed in flames.
The boat and truck were also destroyed, Rivers said.
A man and woman were living in the home with the pets while another man was residing in the one-bedroom apartment in the back, Rivers said. The residents were able to evacuate. The cats were safely removed from the home.
Firefighters extinguished the flames in less than 30 minutes, Marini said. Marini said the power was shut off to the home, leaving it uninhabitable.
The residents were staying with friends and family members in the meantime. The state fire marshal was investigating the cause of the blaze, Marini said.
The fire led police to close 20th Avenue and 19th Street in all directions. The roadways were reopened by 3 p.m., police said.
Photos provided by Vero Beach Police Department