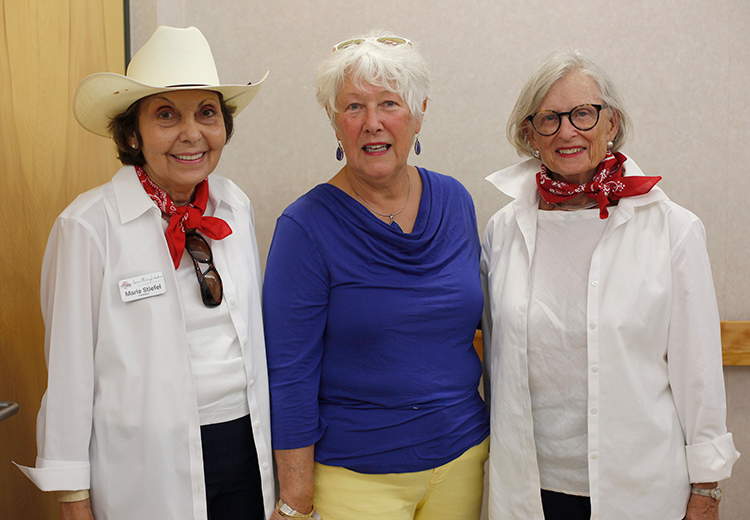 Lovers of poetry and literature convened for the annual Poetry and BBQ fundraiser to benefit the Laura (Riding) Jackson Foundation, this year held at the Richardson Center at Indian River State College Mueller campus, within site of the historic Florida "cracker" style house where the 20th century poet resided with husband Schuyler B. Jackson.
"Welcome to the 11th annual Poetry and BBQ. We're so delighted to have you here," said Sean Sexton, cattleman, artist and Indian River County Poet Laureate, who had lassoed the featured Cowboy Poets, Andy Wilkinson, Jerry Brooks and Shadd Piehl.
"Our first hour is devoted to the local poets of groups that have formed under the different auspices of the Laura (Riding) Jackson Foundation," said Sexton. "We think that you will be very pleased to hear what they have to read."
"We now have six active adult writing groups in the foundation," said Susan Lovelace, LRJF co-vice president and program coordinator.
"Three of them – Porch Poets, Pole Barn Poets and Poets Corner – are mostly poetry. We have Tuesday Writers, who write novels and short stories; the Write Life group, which focuses on social media, blogging and some of the more modern genres; and then we started a new group just recently called Pinpoints, which is going to be situated up in Sebastian, our north county chapter, which is going to focus on writing matters such as publishing, marketing and those types of other current trends."
The heartfelt readings of the local poets touched on an array of topics, from the courageous spirit of frontier mountain women and a young woman's Mother's Day tribute to a haiku emphasizing the Ukrainian peoples' loss of cherished memories, and voices being raised, not silenced, by the so-called 'Don't Say Gay' act.
Lovelace presented Tyler Hyatt, currently a student at Florida Institute of Technology, with the Teen Fellows Award, for his contributions and volunteer efforts at five different workshops.
"He wrote some wonderful works," said Lovelace. "He's just been a delight to work with."
Before reading the Laura (Riding) Jackson poem, "The Spring has Many Silences," board member Carrie Adams said that while Laura's work is not often thought of as 'popular poetry,' it was a "rare joy" to see the Academy of American Poets feature the poem during National Poetry Month.
Guests were also treated to a reading by Brad Phares, a fifth-generation cattleman from Fort Pierce/Okeechobee who, like Sexton, is an artist and poet.
Introducing the featured poets, Sexton said he first heard poet/songwriter Wilkinson when he was the keynote speaker at the 33rd National Cowboy Gathering. Wilkinson had presented the keynote in poetry and song, "which is the first time that had been done."
Sexton said Brooks is a reciter of classical and modern cowboy poetry, "and can do so for hours. She has an astounding library in her brain. I've seen her many times in Elko and one of my favorite shows of all time was one that she shared the stage with Andy [Wilkinson]."
Sexton first met Piehl at the airport in Salt Lake and had ridden many times on the three-and-a-half-hour drive across the Great Basin to Elko. Piehl was twice the Great Plains Region's bronc riding champion, has taught English and literature, and is currently academic dean at Rasmussen College in Bismarck.
The preservation of the historic Laura (Riding) Jackson home inspired the formation of the foundation, which focuses on the proliferation of poetry and the written word through teen and adult writing groups and workshops.
For more information, visit lauraridingjackson.org.
Photos by Kaila Jones