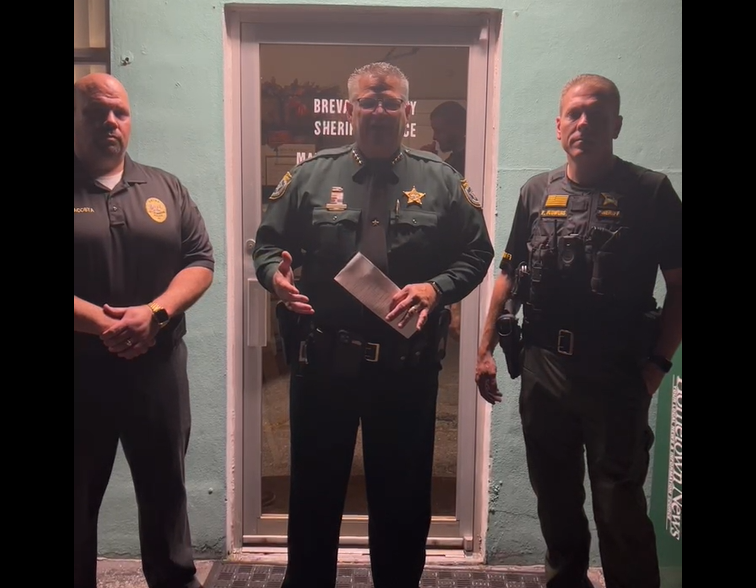 A gunman who authorities said kidnapped two women and led officers on a chase that wound through Indian River County and several other jurisdictions, was shot dead by police late Saturday. The man was identified by sheriff's officials as 42-year-old Curtis Kimbrough, from Cocoa Beach.
 "He picked this gunfight, and we ended this gunfight," Brevard County Sheriff Wayne Ivey said.
None of the deputies – including Indian River County deputies who were shot at by Kimbrough – were injured. Sheriff's officials said Kimbrough shot one of the women during the kidnapping that occurred in Osceola County.
Both women were rescued by law enforcement after the multi-county police chase.
The incident began at about 8 p.m. Saturday in Osceola County, according to Ivey, who stood alongside Indian River County Sheriff Eric Flowers and Sebastian Police Department Chief Dan Acosta in a video live-streamed on Facebook early Sunday.
"Officers from all three agencies were involved. The suspect is dead and the victims are safe. All of the men and women involved in this are heroes," Ivey said, describing Kimbrough as a "violent individual."
Officers said Kimbrough had held the women hostage and drove from Osceola County into Indian River County and Brevard. The agencies also tracked the vehicle with patrol cars and helicopters as the automobile crossed several county lines.
"We jumped right on it. The guy started shooting at our deputies," Flowers said.
Kimbrough traveled up Interstate 95 before crashing into the woods in the Grant-Valkaria area. The woman who had been shot was able to run from the vehicle and was rescued by deputies, sheriff's officials said.
Kimbrough got out of the vehicle – while holding a gun to the head of the other hostage – and ran into the wooded area. Sheriff's helicopters helped guide deputies to the man's location.
Kimbrough then exchanged gunfire with officers from Sebastian, Brevard and Indian River County, officials said. Kimbrough was killed during the shootout, Ivey said.
Law enforcement rescued the second hostage. Both women were taken to local hospitals for treatment, sheriff's officials said.
One woman, age 33, has since been released, sheriff's officials said. The other woman, age 41 and who was shot during the kidnapping, remains in the hospital in serious condition.
"Agents are still in the process of determining the circumstances that led to the incident in Osceola County and the relationship between the suspect and victims," Brevard County sheriff's officials said in a statement.
The names of the women and the officers involved in the incident were not released. All law enforcement officers involved were placed on paid administrative leave, which is routine in police-involved shootings.
An investigation is underway at five different crime scene sites, authorities said. The Brevard County Sheriff's Office Homicide Unit is conducting the investigation.
No further details were immediately available.