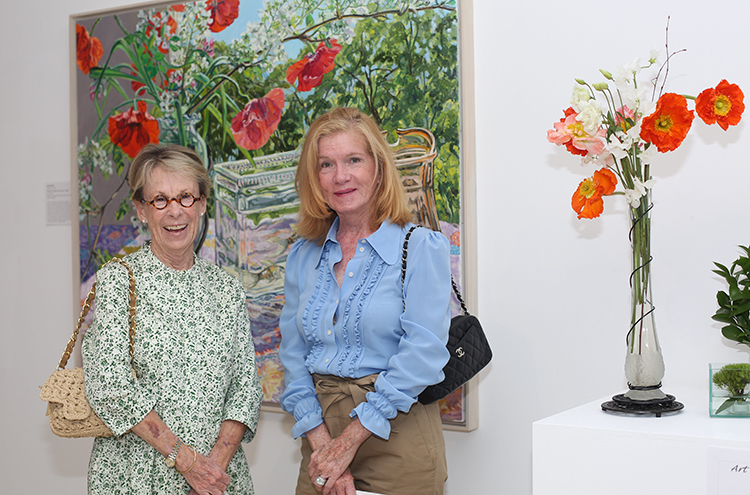 Art blossomed once more during the annual Art in Bloom Luncheon at the Vero Beach Museum of Art. Under the green thumbs of luncheon co-chairs Barbara Hathaway and Beth Werwaiss, and exhibition co-chairs Ann Jones and Ann Webber, the event returned to its former full bouquet following last year's modified format.
Inspired by artworks featured in the museum's collection and current exhibition, Vero Collects: Hidden Treasures Revealed, 13 talented local designers created 12 interpretative floral designs that captivatingly played off the colors and shapes in the works.
This year's designers were Julie Herrmann, Ann Jones, Barbara Kaytes, Lee LaPointe, Suzanne Mallory, Betty McCarthy, Cress Meier, Sharie Mortimer, Nancy Murray, Pinkie Roe, Elaine Sigler, Ann Webber and Arun Wijetilleke.
"I think this is one of the best years ever for Art in Bloom. The way the artists responded to Vero Collects and our current collection, all I can say is I'm glad I don't have to vote," said Brady Roberts, VBMA CEO/executive director. It was the guests who determined the winners.
"There would be no Art in Bloom if not for our extraordinarily talented floral designers. They have given these works of art new life through their creative interpretations."
More than 400 guests, attending in two sittings, viewed the array of living art before enjoying a presentation and demonstration by master floral designer and author Ariella Chezar, who Roberts said is admired for her "organic, seasonally focused approach to floral design."
Chezar also teaches floral design at workshops and retreats across the globe and said she garners a great deal of inspiration from the seasonal blooms on her farm in upstate New York.
Her belief that "we're only as good as the quality of our product" was the driving force behind her decision to start the flower farm. It also allowed her to make a difference in what she referred to as the "dark underbelly of this beautiful business: pesticides and the carbon footprint of shipping flowers."
"To be able to do my part to some degree in growing things sustainably and for myself. It's not all altruistic. I have an insatiable appetite for flowers, as I suspect some of you may also. And why plant 10 tulips when you can plant 10,000 tulips," said Chezar.
Afterward, the room was abuzz with chatter and ideas, as attendees mulled over Chezar's tips and ideas as they dined during the Gardenia and Azalea seatings on a luncheon catered by Elizabeth Kennedy & Co.
Wanting to take full advantage of the lovely afternoon, guests also did a little shopping at the Museum Store Trunk Show of Italian made bags by Solo Perché.
Vero Collects: Hidden Treasures Revealed will be on display through May 15. For more information, visit vbmuseum.org.
Photos by Kaila Jones