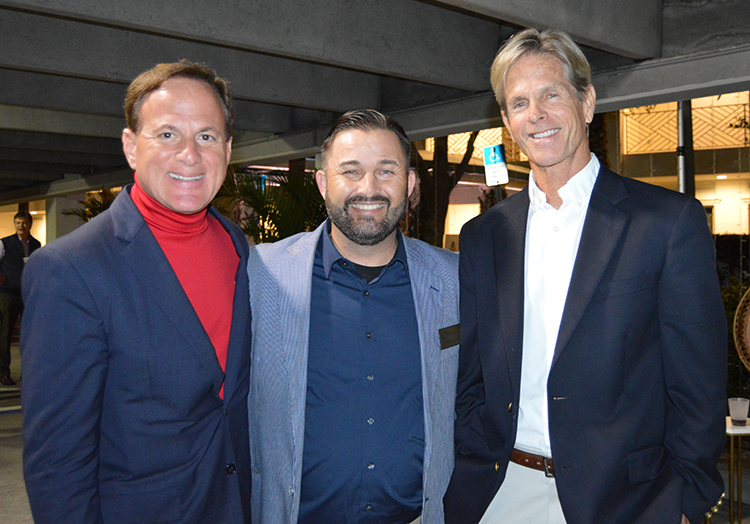 Supporters of the Source, a Christian-based ministry that addresses the needs of the poor and the homeless, were transported to 'A Garden of Eden' at its recent Night of Hope fundraiser.
The event took place in the wonderfully transformed parking garage of the 3001 Park Place building on Ocean Drive, an open-air venue chosen with pandemic safety at the forefront.
Guests enjoyed catching up with old friends and making new ones as they nibbled on heavy hors d'oeuvres made by Source clients, who are currently participating in the cadre of Dignity culinary training programs.
"This past year, we've had some amazing trials and tribulations. Tonight, I hope you will catch the vision and importance of your partnership with the Source," said Tony Zorbaugh, executive director, before showing a video that highlighted an impressive list of accomplishments over the past year.
"The greatest challenge that we faced this year was probably COVID-19," said Zorbaugh.
Referencing a 48-hour closure of the facility, he added, "Even though we had to close due to the pandemic, we were still able to come back with some amazing new programs that are unique to our community."
He said staff, volunteers and donors worked "miracles," such as launching two Dignity Buses which provided 1,850 sleeps to 150 unique homeless individuals. Two Dignity Food Trucks are now providing food wherever it is needed, and they opened a new Dignity Caters catering venue.
Through a Dignity Works program in partnership with BE Princess Inc., Source clients are earning a dignified income by packaging Sic-Sac motion sickness bags for private airplanes. A Dignity Smiles program has local dentists volunteering to give smiles back to program participants, and they have expanded their mental health counseling and employment resource programs.
Zorbaugh credited many of their accomplishments to Maureen Archer, their former assistant executive director, who recently passed away.
"She was co-founder of everything that you've seen. We miss her. We love her. All honor goes to her. This had nothing to do with me."
Most recently, the Source began converting the 19-unit Pelican Island Cottages in Sebastian into Dignity Village, to provide affordable housing to the otherwise homeless. The project will include a storage facility, chapel, community building, outdoor kitchen and outdoor movie theater.
"We knew that in our hearts, we wanted to settle people. We knew that people needed a place to call home and a place for community," said Zorbaugh. He added that residents will be encouraged to work it and take care of it, as God did with man in the Garden of Eden.
"Just because someone is homeless doesn't mean they should be treated without respect. Many of you may say, 'Why are they homeless?' 'Why can't they get a job?' 'What's wrong with these people?'" said longtime supporter Cindy O'Dare of Premier Estate Properties, who with partner Richard Boga know the value of homeownership.
"Ask yourself, 'Could I become homeless?' Maybe not, but I can identify as another human being, a brother or a sister. We are all human beings," she continued.
She commented that while the Source offers programs for those who are homeless and want to improve their lives, they also provide meals and clean clothes to those who don't.
"The love is unconditional, and it is a non-judgment zone," said O'Dare, before handing the microphone to the charismatic Boga, who gave a heartfelt request for donations so that the Source can continue its mission.
Founded in 1995 to provide the homeless with a free meal and Bible study, the Source has evolved into a comprehensive assistance center that provides individuals with the resources they need to become productive citizens and achieve lasting recovery.
The Source also offers emergency hunger relief, clothing, counseling and support groups, hygiene items and showers, mail and telephone services, benefit referrals, and is a cold-weather refuge.
Zorbaugh closed the evening by presenting Marty and Beverly Paris with a Heartbeat of the Source Award, for helping to shine a light on the work done at the Source over the past two years.
For more information, visit iamthesource.org.
Photos provided