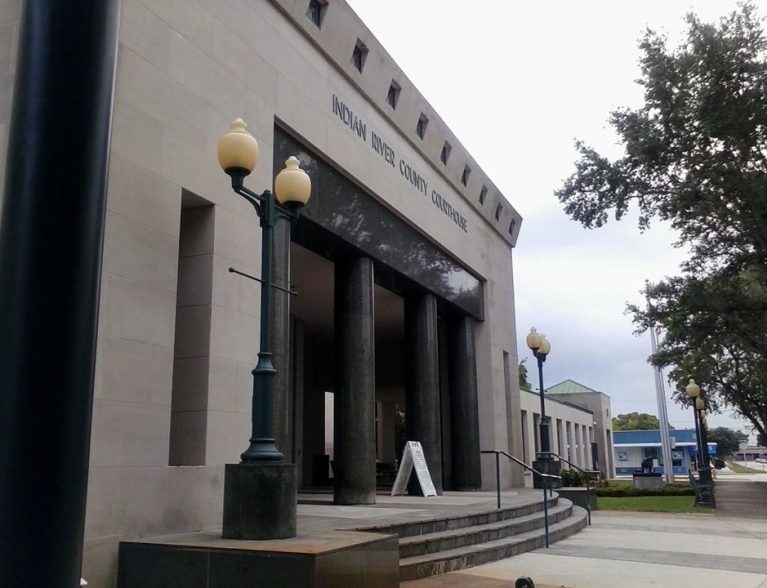 A sheriff's forensics technician took the stand Tuesday and described the deadly aftermath of the gunfire that ripped through the Gifford home of Andrew Coffee IV during a 2017 morning raid. Coffee's 21-year-old girlfriend Alteria Woods was killed in the crossfire between him and deputies, being struck 10 times by rounds from officers, according to medical examiners.
Bullets tore through the mattress where Woods was sleeping, according to Sgt. Robert Newman, a supervisor in the forensics services unit at the Indian River County Sheriff's Office. Bullets also pierced the thin walls and went through the kitchen of the home at the time of the raid, Newman said.
There were five people inside the residence – including Coffee's father, Andrew Coffee III – during the early morning SWAT operation, according to witnesses who testified. Coffee III was the target of the search warrant.
"I was on the scene for 15 hours," said Newman, one of six witnesses who took the stand during the second day of testimony in the second-degree murder trial for Coffee. Even though Woods died from bullets fired by deputies, prosecutors charged Coffee in connection with Wood's death. Prosecutors said Coffee committed a felony he knew would cause harm to others.
Coffee was charged with second-degree murder with a firearm, three counts of attempted first-degree murder of a law enforcement officer by discharging a weapon, possession of a firearm by a convicted felon and shooting or throwing a deadly missile. If convicted on the charges, Coffee could face life in prison.
Chris Taylor and Bill Long, both assistant state attorneys, are prosecuting the case. Julia Graves and Adam Chrzan are the defense attorneys.
A six-person jury on Tuesday heard from more witnesses, including crime scene detectives, tactical medicine officers and SWAT team members. The jury was shown pictures of the small home in the 4500 block of 35th Avenue, where Coffee lived with relatives.
Prosecutors also showed the jury shell casings recovered from inside the residence.
The fateful raid happened on March 19, 2017, as Coffee was with Woods – a pharmacy technician – at his Gifford home. Coffee had just worked a double shift at his two jobs earlier that day before meeting Woods, coming home and going to bed.
At least 14 officers, including SWAT team members in camouflage pants and shirts with 'SWAT' on the sleeve, were at the home about 5 a.m. with a search warrant, the sheriff's agency reported.
Deputies tried to conduct a knock-and-announce warrant at the home. Before deputies could knock, Coffee III opened the main door.
Deputies took the elder Coffee into custody while yelling "sheriff's office search warrant," according to witness statements from deputies. Then, gunfire erupted.
The SWAT team broke out a bedroom window, then took on gunfire coming from inside the darkened room. The SWAT deputies returned fire, prosecutors said.
Sheriff's officials – who conducted their own investigation – said Coffee initially fired at deputies.
Coffee later testified in a 'Stand Your Ground' hearing that he did not know who was breaking in the home and feared for his life, with deputies using flashbangs, attorneys say.
More gunfire ensued as deputies fired indiscriminately into the bedroom after being shot at, prosecutors said. Deputies later discovered Woods fatally wounded on the bed.
The deadly shooting led to protests and a shifting narrative from deputies about what happened as prosecutors formally charged Coffee with Woods' death. Woods' mother, Yolanda Woods, filed a federal lawsuit for misconduct against the deputies who sprayed bullets during the shooting.
The officers who fired during the raid were Cpl. Patrick White, retired Indian River Shores Officer Richard 'Rick' Sarcinello and Sgt. Christopher Reeve. All three were exonerated by a grand jury four months after the deadly incident.
Prosecutors said Woods was struck by bullets from Sarcinello's firearm. Newman said Sarcinello fired 16 shots while Reeve and White each fired four shots.
The trial was expected to resume at 9 a.m. Wednesday. It was not known if Coffee would take the stand in his own defense.