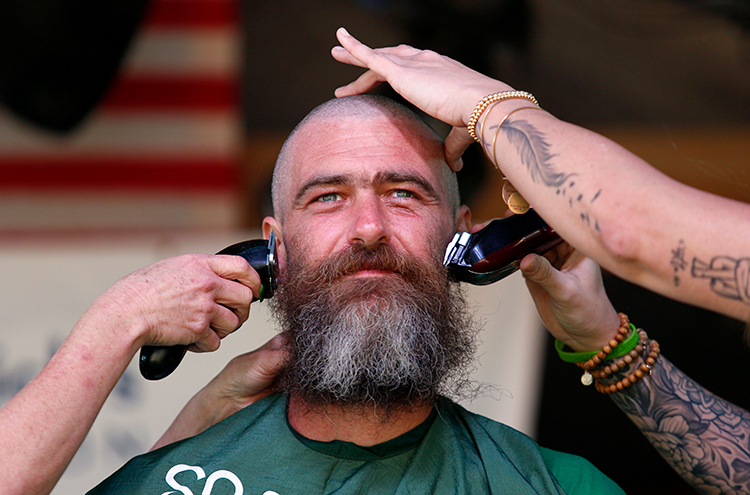 Men, women and children once again participated in the ninth annual Indian River County Braves the Shave fundraiser at Capt. Hiram's to benefit the St. Baldrick's Foundation, which provides grants for pediatric cancer research.
St. Baldrick's began in New York on March 17, 2000 when friends – blending baldness with St. Patrick's Day – raised funds to help children with cancer. By shaving their heads, they showed solidary with the hair loss of pediatric cancer patients during chemotherapy treatments. Since its formation in 2005 as the St. Baldrick's Foundation, more than $306 million has been granted to research.
"This year, our ninth year, Indian River County's Signature Shave has raised $1 million. So that's pretty impressive stuff," said Frank Mannino, organizer of the all-volunteer local fundraiser.
"Last year we had a virtual event and we raised just shy of $50,000. This year we are currently at $48,900, and by the time we receive the corporate matching funds and all of the checks are cashed, we should be upwards of $60,000, which is pretty darn good for a COVID year."
Mannino said they're especially looking forward to their 10th anniversary next year, because many of their shavees have participated 10 years.
"At St. Baldrick's, we have something called the League of Legendary Heroes, which has different levels. After three years they become a Squire, after seven years they become a Knight of the Bald Table, and after 10 years they become a Knight Commander, and that's a big deal," he explained. "So next year we'll have a lot of Knight Commanders. This year my son (Mike Mannino) became a Knight Commander, which was cool."
Several standouts were among this year's brave shavees, including Cole McCarty, who became a Knight of the Bald Table.
"Last year he would have become a knight, but we had to have a virtual event. His family moved out of Indian River County to Lake Placid, so they drove an hour and a half here to Sebastian for Cole to become a Knight of the Bald Table. He can't be 12 years old, and he's been shaving for eight years; he's an amazing young man," said Mannino.
In addition to asking acquaintances for contributions, some also tap into the crowd at the event, including Nick Mahoney, who raised about $3,000 while he was on stage to shave his impressive head of hair, full beard and mustache. The volunteer barbers helped to whip up the crowd by shaving part of his head and asking for donations to shave the rest.
Next, donations were solicited to shave his beard, followed by a mustache shaving.
"He did the whole ball of wax; he shaved it all, so that was a lot of fun. We've never shaved beards or mustaches before," said Mannino.
Joni Mazzola, a first-time participant, decided to get her head shaved after watching a Lions Club video about the need for childhood cancer research.
"She was the first woman to raise over $10,000, so she did a great job of raising money," said Mannino. "While she was raising money, her mom became ill in Cleveland, so she drove up there to be with her mom. She drove back down just to get shaved, and then was going back to look after her mom. It was pretty heartwarming."
But what truly hit home was while Jeff Behan sat on stage waiting to be shaved. His 10-year-old daughter Elysia, now two years cancer free and no longer receiving chemo, elicited cheers from the crowd singing Meghan Trainer's hit "Me Too."
Mannino said, she confided to him that while she was struggling with cancer, she had decided, "If I live, I want to sing on stage. You made my dream come true."
"I cried my eyes out. She was so great; she was just adorable." said Mannino. He added that Elysia and thousands like her are why they Brave the Shave.
"All in all, it was just another great day," said Mannino.
For more information, visit stbaldricks.org.
Photos by Kaila Jones