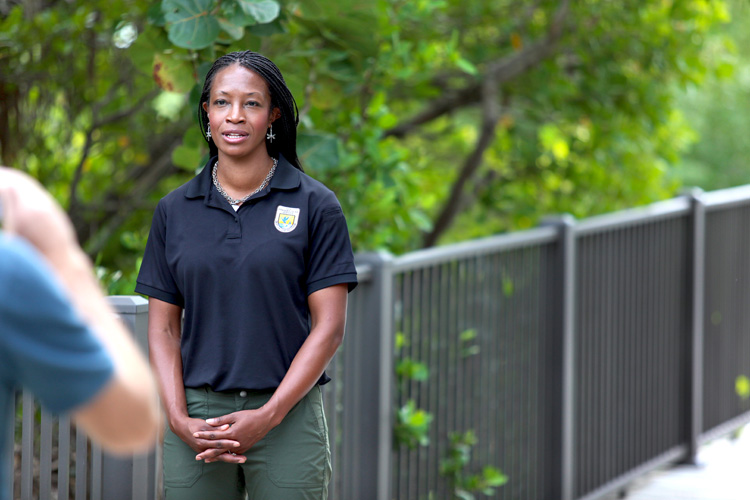 The director of the federal agency in charge of Pelican Island National Wildlife Refuge complimented the refuge's wild beauty and brought good financial news to staffers when she visited the 5,400-acre property for the first time Saturday.
Aurelia Skipwith, appointed last January as director of the U.S. Fish & Wildlife Service, capped off National Wildlife Refuge Week here on the barrier island at the nation's first refuge, established in 1903 by President Theodore Roosevelt.
During her visit, she helped lay ceremonial planks on the Centennial Trail Boardwalk to commemorate the agency's three newest refuges.
"It is very refreshing to come to our first national wildlife refuge and be able to honor our new ones coming in," Skipwith said. "It's an added bonus for me to meet our staff that are here working every day, keeping our areas pristine and keeping them open to the public. Seeing the pelicans flying overhead is breathtaking. It's great to sit back and enjoy it, because I'm not going to find it in another place."
And Skipwith brought more than compliments on her visit. She said that under the Great American Outdoors Act, signed into law in August, billions in revenues from federal energy development will be divided among federal land management agencies – including $95 million per year over the next five years for the Wildlife Service "to address the deferred maintenance backlog for the refuge system."
That means funds for projects such as maintaining trails and repairing buildings, walkways and parking areas.
Pelican Island, like the rest of the refuge system, has enjoyed brisk visitation throughout the COVID-19 pandemic. It is open seven days a week.